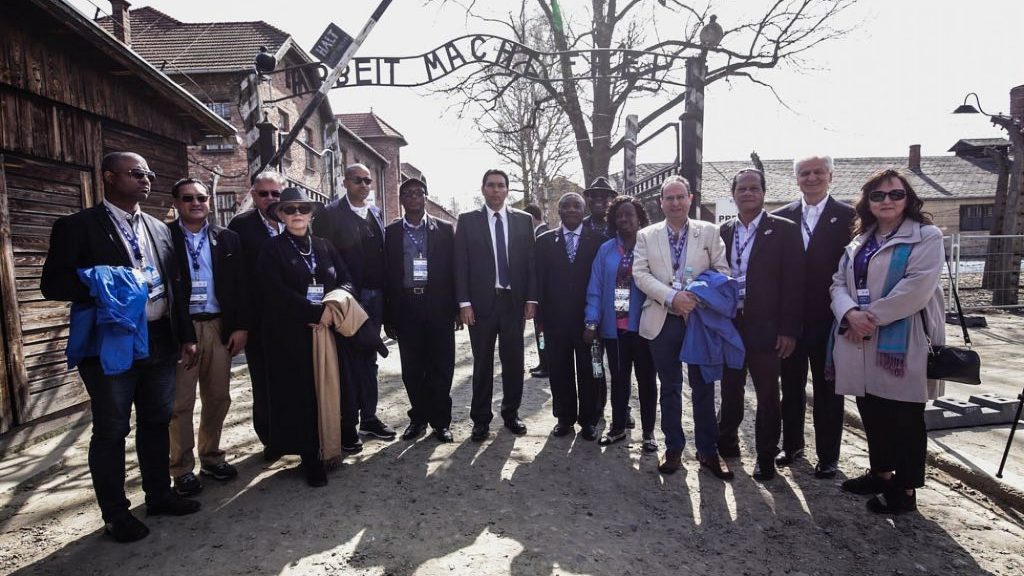 Thursday, April 12, 2018
(Auschwitz-Birkenau, Poland): Ambassadors to the United Nations from Africa, Europe and Latin America visited, Auschwitz-Birkenau the Nazi concentration camps, in Poland today and participated in the 30th annual March of the Living under the auspices of the American Zionist Movement (AZM). The delegation, convened together with Ambassador Danny Danon, Israel's Permanent Representatives to the UN, is part of a larger Diplomatic Mission of forty Ambassadors to the UN, who are visiting Poland this week and will be joining the delegation in Israel next week for Yom HaAtzmaut (Independence Day).
Richard D. Heideman, AZM President, said: "This Diplomatic Mission takes on great meaning in the year when we commemorate Israel's 70th anniversary and just recently marked the important role of the UN Partition Resolution on November 29, 1947, an important day in our history. As many remember the odious Zionism=Racism Resolution of the UN, the fact that Ambassadors to the UN are marching together in Poland and Israel under the auspices of The American Zionist Movement is especially significant. This delegation will gain a greater appreciation for Israel's positive contributions, help improve Israel's standing within the UN and help build greater ties for the Jewish people among diplomatic leaders from many nations."
Ambassador Danny Danon said: "As we witness an increase in anti-Semitism around the world, and dangerous attempts to rewrite history, now more than ever we must ensure that the memories of the survivors pass on to the next generation. By joining us on this meaningful march, UN ambassadors from around the world are speaking out against antisemitism and sending a message to all those who peddle in hatred."
The delegation arrived in Krakow on Wednesday and toured the historic synagogues and Jewish Quarter and visited the Krakow Jewish Community Center. They participated in a Yom HaShoah commemorative ceremony, which concluded with the singing of Hatikvah, the Israel national anthem, which was the song of the Zionist movement, now marking the 120th anniversary of its founding in Basel by Theodor Herzl. Leaders of the World Zionist Organization and American Forum For Israel, the organization for Russian American Jews, also joined the AZM group in Poland. Players and officials of the Chelsea Football Club in the United Kingdom, which has launched an initiative to raise awareness of anti-Semitism, also took part in the AZM delegation.
The American Zionist Movement (AZM), comprised of 25 national Jewish Zionist organizations representing millions of Americans in the World Zionist Organization, works across a broad ideological, political and religious spectrum linking the American Jewish community together in support of Israel, Zionism and the Jewish People