AZM is pleased to share with you Passover materials prepared by some of our constituent organizations, as well as our colleagues at the World Zionist Organization, including a Zionist Passover Haggada for Children.
Chag Pesach Sameach!
WORLD ZIONIST ORGANIZATION RESOURCES
A NEW DAYENU – Song lyrics
DEPARTMENT FOR DIASPORA AFFAIRS
A PASSOVER HAGGADA FOR THE YOUNGEST ZIONISTS!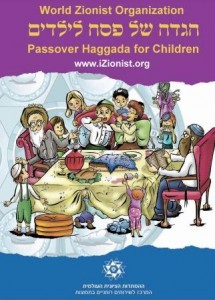 The World Zionist Organization presents a Passover Haggada for Children created by the WZO Center for Spiritual Services in the Diaspora.
Please feel free to print out and share this full-color Haggada for children. Simply download it here!
RESOURCES FROM AZM ORGANIZATIONS AND OTHERS
ARZA/URJ – Reform Judaism Passover Resources and Pesach Blog
BBYO – The Afikoman Hunt and BBYO Passover Guide for Chapters
BNEI AKIVA – Pesach packet
CONSERVATIVE MOVEMENT – USCJ Passover Resources
HADASSAH – Recipes, Games & More and Zionist texts from Gil Troy's Zionist Ideas
HERUT NA – "M'Avdut L'Herut; From Slavery to Freedom" Passover Booklet
ISRAEL FOREVER FOUNDATION – Readings, Activities & More
MIZRACHI – HaMizrachi Torat Eretz Yisrael Pesach Issue
NFTY – NFTY Resources
ZIONIST TEXT FOR THE SEDER BY GIL TROY – Download and print
ISRAEL 201 – Why Is this Country Different?