POLLS HAVE CLOSED for THE US ELECTION TO THE 38TH WORLD ZIONIST CONGRESS

SEE PRELIMINARY RESULTS HERE
US Election to the 38th World Zionist Congress
VOTE FOR YOUR VOICE IN ISRAEL
Make sure your point of view is represented in the next World Zionist Congress. When you vote, you will be able to choose from over a dozen slates representing diverse political beliefs, religious denominations and cultural traditions. Those elected from the United States will join delegates from Israel and around the world at the 38th World Zionist Congress in October 2020, the international "parliament of the Jewish people", to make decisions regarding key institutions which allocate nearly $1 Billion annually to support Israel and World Jewry (including the World Zionist Organization, Keren Kayemet LeYisrael – Jewish National Fund and the Jewish Agency for Israel).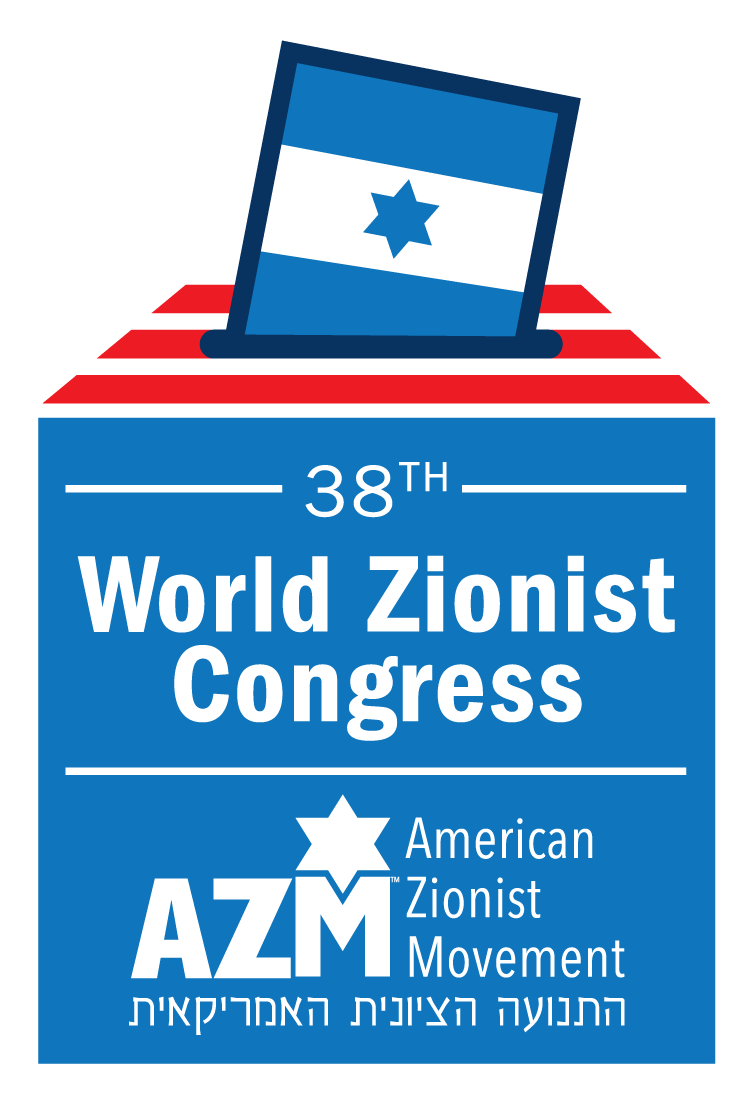 AZM works to promote and defend Zionism in the United States; to deepen and expand the active relationship of the American Jewish Community to Zionism in a contemporary context; to facilitate dialogue and collaboration among Zionist organizations through and with the AZM; and to be the central hub for Zionist resources in America.
Welcome to the american zionist movement
The Zionist Federation in the United States affiliated with the World Zionist Organization (WZO)
Years of World Zionist Movement
Years Uniting American Zionists
AZM works across a broad ideological, political and religious spectrum linking the American Jewish community together in support of Israel, Zionism and the Jewish people.
AZM is composed of 33 national Jewish Zionist organizations representing the broad array of Zionist perspectives and, along with them, engages in a variety of philanthropic, educational and advocacy activities in support of Zionism.
AZM is at the forefront of Zionist programs and activities in the United States.  AZM serves as the convener of the Jewish Zionist organizations within this country, as a catalyst for new Zionist ideas, and as an incubator of new Zionist initiatives.
AZM STATEMENT OF PRINCIPLES OF ZIONISM​​
Adopted in 2018 by the AZM National Board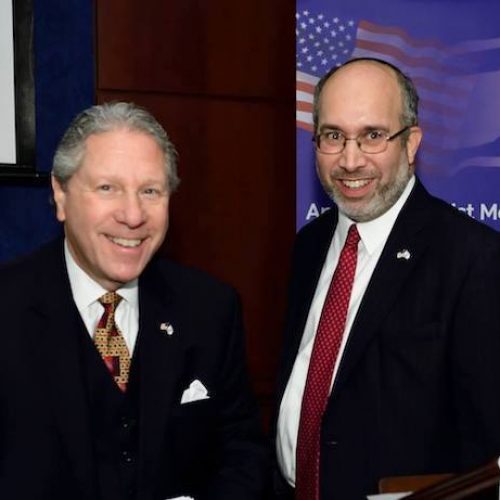 "Broad support for the State of Israel is a central tenet of the Zionism Forward campaign launched by the American Zionist Movement. We gathered together in the Capitol after the midterm elections, and just prior to the new Congress, so our elected officials and community leaders could address how we can unite across party and political lines in support of Israel, whose existence continues to be threatened by her enemies."
AZM President Richard D. Heideman and AZM Executive Director Herbert Block. 2018
In our continued efforts to reenergize Zionism in America, check out some of our 2018 highlights of achievements.
Addressed Anti-Zionism and Antisemitism on campus
This program, hosted by the American Zionist Movement and the Global Center for Countering Antisemitism of the World Zionist Organization, under the auspices of Yaakov Hagoel, WZO Vice Chairman. The speakers and discussion focused on the challenges, obstacles and opportunities for confronting antisemitism and Anti-Zionism on the American Campus Today. Read More »
United Democrats and Republicans on Capitol Hill in support of Israel & Zionism
Convened by AZM, focused on why there must be a renewal of the broad and bipartisan United States support for Israel in its 70th anniversary year. This core support for Israel is a central tenet of the Zionism Forward campaign launched by AZM. As we gathered after the midterm elections and just before a new Congress convenes, Congressional, political and community leaders addressed how we can unite across party lines in support of Israel, whose existence continues to be threatened by her enemies. Read More »
Took 40 UN Ambassadors to Israel and Poland on a Diplomatic Mission
The American Zionist Movement's Diplomatic Mission to Israel and to the March of the Living in Poland including 40 ambassadors to the United Nations. Read More »
Sponsored the national American Zionist Shabbat
AZM has begun this initiative, a resumption of the Zionist Shabbat/Shabbat Tzion program that AZM and the World Zionist Organization conducted in the past, in order to have greater dialogue within American Jewry on the significance of Zionism and its continuing relevance to our people and community. Read More »