For Immediate Release (photo below)
Tuesday, April 17, 2018
Contact: Herbert Block
Forty UN Ambassadors Visiting Israel During 70th Anniversary
(Jerusalem, Israel): Forty Ambassadors to the United Nations, from a quarter of the countries with which Israel has diplomatic relations, are visiting Israel this week on a delegation organized by The American Zionist Movement in cooperation with Ambassador Danny Danon, Israel's Permanent Representative to the UN.
The Ambassadors, who hail from Africa, Asia-Pacific, the Caribbean, Europe and Latin America, covering all UN Regional Groups, are meeting government officials, touring historical, religious and strategic sites and participating in events to commemorate Yom HaAtzmaut, Israel's Independence Day, on the 70th anniversary of the founding of the nation.
Richard D. Heideman, AZM President, said: "Seventy years after the United Nations played a key role in the founding of the State of Israel, it is significant that so many foreign Ambassadors to UN are visiting Israel to see firsthand the history and accomplishments of the country. By being in Israel these diplomats will gain a greater appreciation for the threats and challenges which Israel faces daily, as well as an understanding of the importance of the country to the Jewish people and to all its inhabitants. At a time when UNESCO denies the Jewish connection to Jerusalem it is important that the Ambassadors have seen the Jewish history of the city as well as the respect accorded to all faiths by Israel. Israel's commitment to protecting access to the Holy Places and respect for people of all religions is exemplary and noteworthy to the Ambassadors."
Ambassador Danny Danon said: "As we celebrate seventy years to our independence, it is heartening to be joined by senior representatives of so many countries from around the world. While Israel faces many challenges at the UN, we also know that we have many friends, and that this number continues to grow as more and more countries come to appreciate our beautiful thriving country and the contributions that we make to the international community."
The delegation has met with Jerusalem Mayor Nir Barkat, Opposition Leader Isaac Herzog, Minister Tzachi Hanegbi and visited the Western Wall, City of David and Masada. They will be visiting towns on the Gaza Border, Yad Vashem, Christian holy sites, and meeting other senior national officials. Last week Ambassadors on this AZM Diplomatic Mission participated in the 30th annual March of the Living in Poland in Krakow and in Auschwitz-Birkenau.
PHOTO & CAPTION BELOW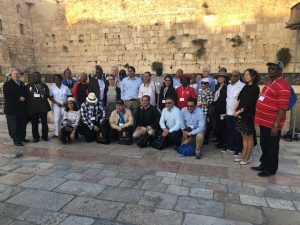 Jerusalem, April 16, 2018: Delegation of Ambassadors to the UN, visit the Kotel (Western Wall) together with Ambassador Danny Danon, Israel's Permanent Representatives to the UN and Richard D. Heideman, President of the American Zionist Movement.
The American Zionist Movement (AZM), comprised of 25 national Jewish Zionist organizations representing millions of Americans in the World Zionist Organization, works across a broad ideological, political and religious spectrum linking the American Jewish community together in support of Israel, Zionism and the Jewish People
---