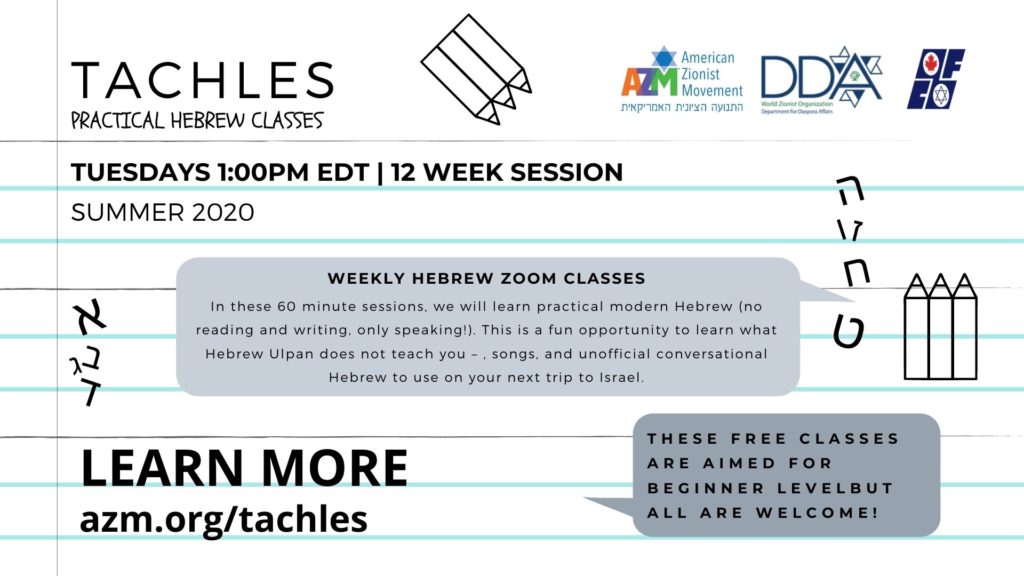 During the Summer of 2020, The American Zionist Movement, the World Zionist Organization Department of Diaspora Activities and the Canadian Zionist Federation hosted "Tachles: Hebrew on Zoom", which was attended by hundreds of participants from throughout the United States, Canada and other countries. 
The 8 week online classes were taught by Or Adi, the WZO/DDA East Coast Director, who served as a WZO Shlicha and liaison to AZM.
During the 60 minute sessions, practical modern Hebrew was taught, including slang, songs, and conversational Hebrew for participants to use on their next trip to Israel.
All class materials, handouts and video recordings are available by scrolling down below. 
For further information, please contact AZM at azm@azm.org.
MATERIALS, HANDOUTS & VIDEOS
WEEK 1: June 16, 2020
Otzar Milim – Hebrew Basics and Getting Acquainted
WEEK 3: June 30, 2020
At the Restaurant
WEEK 4: July 7, 2020
At the Restaurant
WEEK  10: September 1, 2020