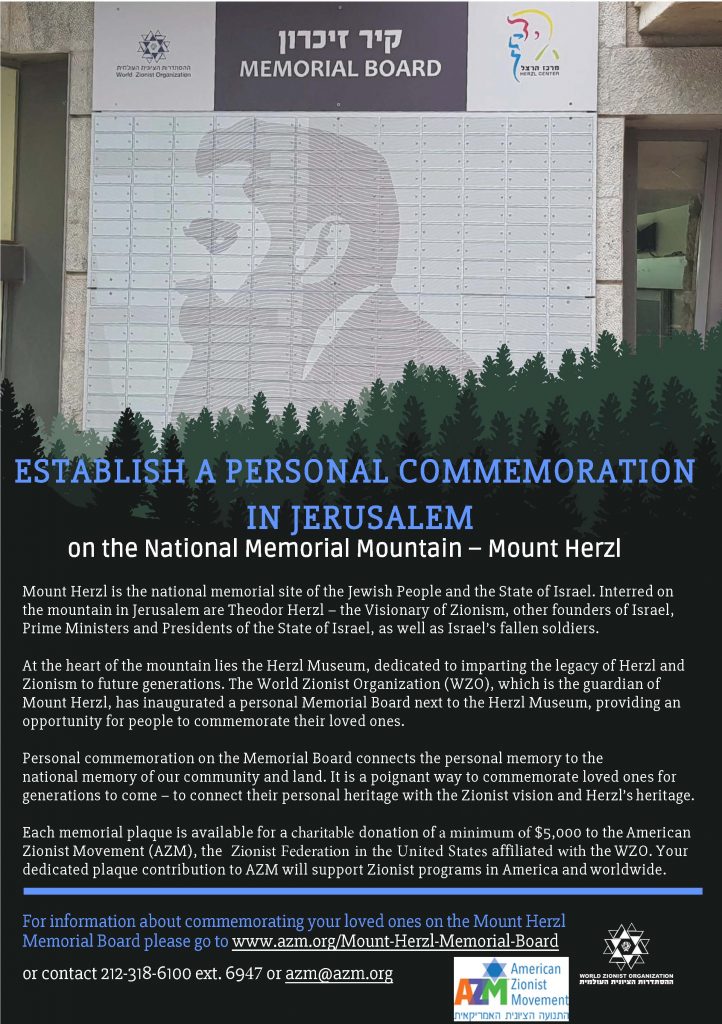 READ MORE ABOUT MOUNT HERZL:
---
---
---
Size & Prices (for your plaque in Jerusalem):
One plaque:                             205mm x 80mm (est. 8.07" x 3.15")                 $5,000
Double plaque:                       420mm x 80mm (est. 16.5" x 3.15")                  $10,000
Double plaque (vertical):      205mm x 170mm (est. 8.07" x 6.69")               $10,000
Quad plaque box:                   420mm x 170mm (est. 16.5" x 6.69")                $18,000*
*Special for AZM donors
---
---
Plaques can be hung on the Memorial Board in Jerusalem within a few weeks of payment and visits to Mount Herzl for personal dedications or viewing can be arranged. 
You can purchase your plaque below or you can print the form and mail it with your check, made payable to:
American Zionist Movement
40 Wall Street, Suite 706
New York, NY 10005
[wufoo username="azm" formhash="z1h45a1n1wgclpz" autoresize="true" height="1182″ header="show" ssl="true"]
ESTABLISH A PERSONAL DEDICATION IN JERUSALEM 
At the Mount Herzl National Memorial
CLICK HERE TO RESERVE YOUR MEMORIAL PLAQUE TODAY 
Mount Herzl is the national memorial site of the Jewish People and the State of Israel. Interred on the mountain in Jerusalem are Theodor Herzl – the Visionary of Zionism, other founders of Israel, Prime Ministers and Presidents of the State of Israel, as well as Israel's fallen soldiers.
At the heart of the mountain lies the Herzl Museum, dedicated to imparting the legacy of Herzl and Zionism to future generations. The World Zionist Organization (WZO), which is the guardian of Mount Herzl, has inaugurated a personal Memorial Board next to the Herzl Museum, providing an opportunity for people to commemorate their loved ones.
Personal commemoration on the Memorial Board connects the individual memory to the national memory of our community and land.  It is a poignant way to commemorate loved ones for generations to come – to connect their personal heritage with the Zionist vision and Herzl's heritage.
Each memorial plaque to be placed in Jerusalem on Mount Herzl is available for a charitable donation of a minimum of $5,000 to the American Zionist Movement (AZM), the Zionist Federation in the United States affiliated with the WZO.  Your dedicated plaque contribution to AZM will support Zionist programs in America and worldwide.
For information about commemorating your loved ones on the Mount Herzl Memorial Board see below or contact 212-318-6100 ext. 6947 or azm@azm.org.