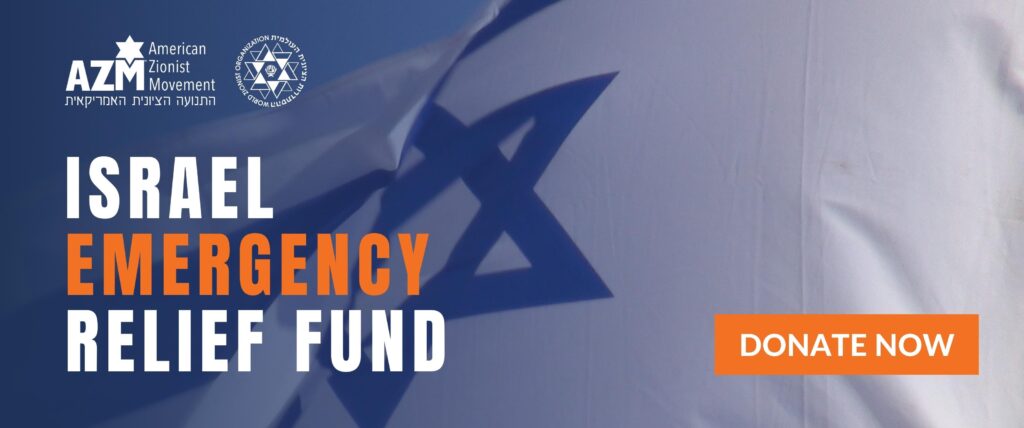 The American Zionist Movement (AZM) stands in solidarity with the people of Israel. All of our 43 member organizations are horrified by the scope and brutality of the unprecedented attack by Hamas. This is a tragedy of incomprehensible scope for Israel and the Jewish People. As we mourn those murdered and grieve with their families, we also pray for the recovery of the wounded and for the release of all hostages. Am Yisrael Chai!
AZM is the umbrella Zionist Federation in the United States of the World Zionist Organization (WZO), founded by Theodor Herzl to unite world Jewry and connect us to Israel.
AZM has established an Israel Emergency Relief Fund to support the crisis response work of the WZO in Israel. There are now, and will for a long time, be serious and immediate needs on the ground in Israel. WZO headquarters in Jerusalem has established a national coordination center to identify needs and source supplies and services to meet those needs quickly and efficiently. The Center is also assisting with logistical and customs arrangements for large shipments of supplies from Jewish communities around the world.
Currently needed are services and supplies for people evacuated from their homes in the vicinity of Gaza and supplies for IDF soldiers in the field.
SEE THE IMPACT OF YOUR SUPPORT
AZM has already distributed funding to the WZO which has immediately been used to supply the following (updated as of 10. 26.2023):
Please contribute generously. All donations will be transferred immediately to our trusted partners at WZO in Jerusalem and its affiliated National Institutions of Israel. 100% of funds received will be used for emergency relief projects in Israel.
To donate online, please fill out the form below.
If you prefer to mail a check:
American Zionist Movement
Attn: Israel Emergency Relief Fund
633 Third Avenue, 21 Floor
New York, NY 10017
The American Zionist Movement is a charitable tax-exempt organization (EIN: 13-2679404) pursuant to section 501(c)(3) of the Internal Revenue Code. Click here to see the AZM tax exemption letter from the IRS.
AZM ISRAEL EMERGENCY RELIEF FUND