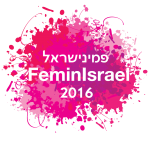 March 8th was International Women's Day, which takes place during Women's History Month. Each year, AZM and WZO mark Women's History Month with "FeminIsrael", an initiative created to focus on and draw attention to the achievements of Israeli women, and their tremendous contributions to Israel and the world.
This year in the context of FeminIsrael, the AZM and the Consulate General of Israel in New York have joined together to honor some of the women who comprise Israel's Delegation to the UN Commission on the Status of Women. AZM will be hosting a reception and panel discussion
It promises to be a very special program, featuring some high-powered Israeli professional women, including: Orit Rishpi from wepower, Hava Carrie from the Carmel Institute, Gila Gamiel, Director-General of the Foreign Ministry, among others. Moderating the event will be Farhana Rahman, Director for Communications for Z-Cast, a mobile app for broadcasting live podcasts developed by the Israeli start-up, Zula. Farhana gained quite a bit of attention during her business trip to Israel earlier this year as she posted her strong support and love for the country and people of Israel.
Click here to sign up, or click on the flyer below.