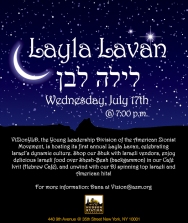 The first New York  Layla Lavan took place on Wednesday evening, July 17th in the midst of one of the worst heat waves in years.  An annual event in Tel Aviv, Layla Lavan was first instituted there as an all-night cultural festival in 2003 to mark UNESCO's awarding it World Heritage status.  The record-breaking hot and humid weather was no deterrent for the Manhattan revelers who flocked to the west side for "a taste of Israel"  in New York.
From young professionals and local Israelis to BirthRight and Masa returnees, more than 200 New Yorkers made their way to Hudson Station on West 35th Street to enjoy felafel, sabich, bourekas and limonana with blue and white drinks while listening to contemporary Israeli music, speaking Hebrew at the Cafe Ivrit, walking the indoor "shuk" and getting henna tatoos .  A very unique part of the program was a beer tasting table, where participants had the opportunity to test "Lost Tribes Beer", micro-brews based on  ancient Middle Eastern recipes. Awesome!
AZM organizers described the first annual Layla Lavan as a pilot project that they hope will grow into an annual Israeli cultural summertime party and festival in New York.  As they see it, Layla Lavan  will eventually expand into different venues and flow onto the streets, reflecting a variety of Israeli cultural expressions and the vibrancy of Tel Aviv, the White City,  at night.  Meanwhile, one of those who attended this year summed it up for a lot of people when he wrote on the FaceBook event page "To the organizers of this event: This was one of the best events I have attended in a long time. Thank you for putting it all together!"
View pictures from the event here!