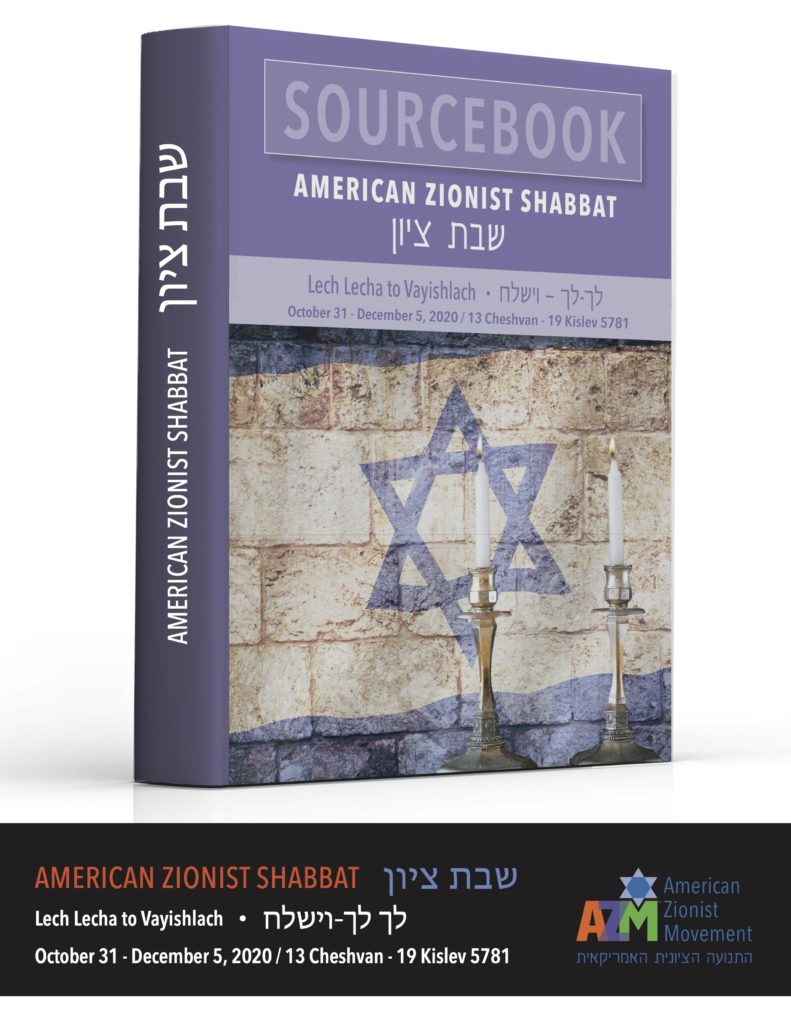 The American Zionist Movement is pleased to update for 2020-5781 and share once again the American Zionist Shabbat initiative. This project spans the period from Parshiot Lech Lecha (October 31/ Cheshvan 13) to Vayishlach (December 5/19 Kislev), 2020-5781.
Below you will see resources for discussing Zionism in synagogues, schools and the community during this period, including links to materials easily available through the internet.
Beginning in 2017, the American Zionist Movement (AZM) launched a new American Zionist Shabbat initiative covering the period of Shabbat Lech Lecha through Vayishlach. The updated edition you will find below, is running from October 31/ Cheshvan 13 to December 5/19 Kislev 2020-5781.
AZM is continuing the Zionist Shabbat/Shabbat Tzion program in order to encourage greater dialogue within American Jewry on the significance of Zionism and its continuing relevance to our people and community. We hope the commencement of Parshat Lech Lecha – the beginning of Abraham and Sara's journey to what would become the Land of Israel – will inspire Rabbis to speak about Zionism in their sermons, drashot, and writings; day schools, yeshivot and Hebrew schools to connect their students to Zionism through the Parshiot; and congregations, community organizations, and Jewish institutions to share materials through programs and discussions on Zionism.
AZM has compiled this Source Book, drawn from materials developed and shared by our AZM organizations and others, to whom we express our thanks and appreciation for their leadership and dedication, in order to provide a resource for conversations on Zionism during this period of American Zionist Shabbat. We will continue to grow and expand this guide and program through the years, and encourage others to share sources with us at azm@azm.org.
Since the convening by Theodor Herzl of the World Zionist Congress in Basel, in 1897, Jews worldwide have been brought together by the discussion of Zionism. AZM has continued this tradition to further advance Zionist discourse in the United States. We hope that our contribution will connect Jews with our homeland, continuing to support the culture and democracy that Israel imbues today. Below, please find a plethora of Zionist content, including Shabbat in Israel, Divrei Torah, history and culture.
Click on the links below to view previous issues of the American Zionist Shabbat:
November/December 2019 – Cheshvan/Kislev 5780