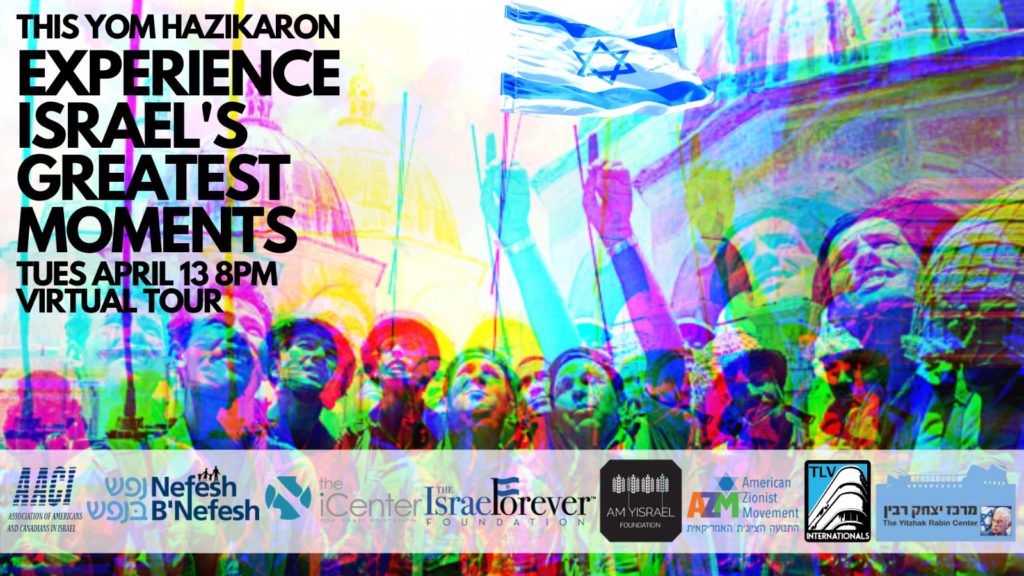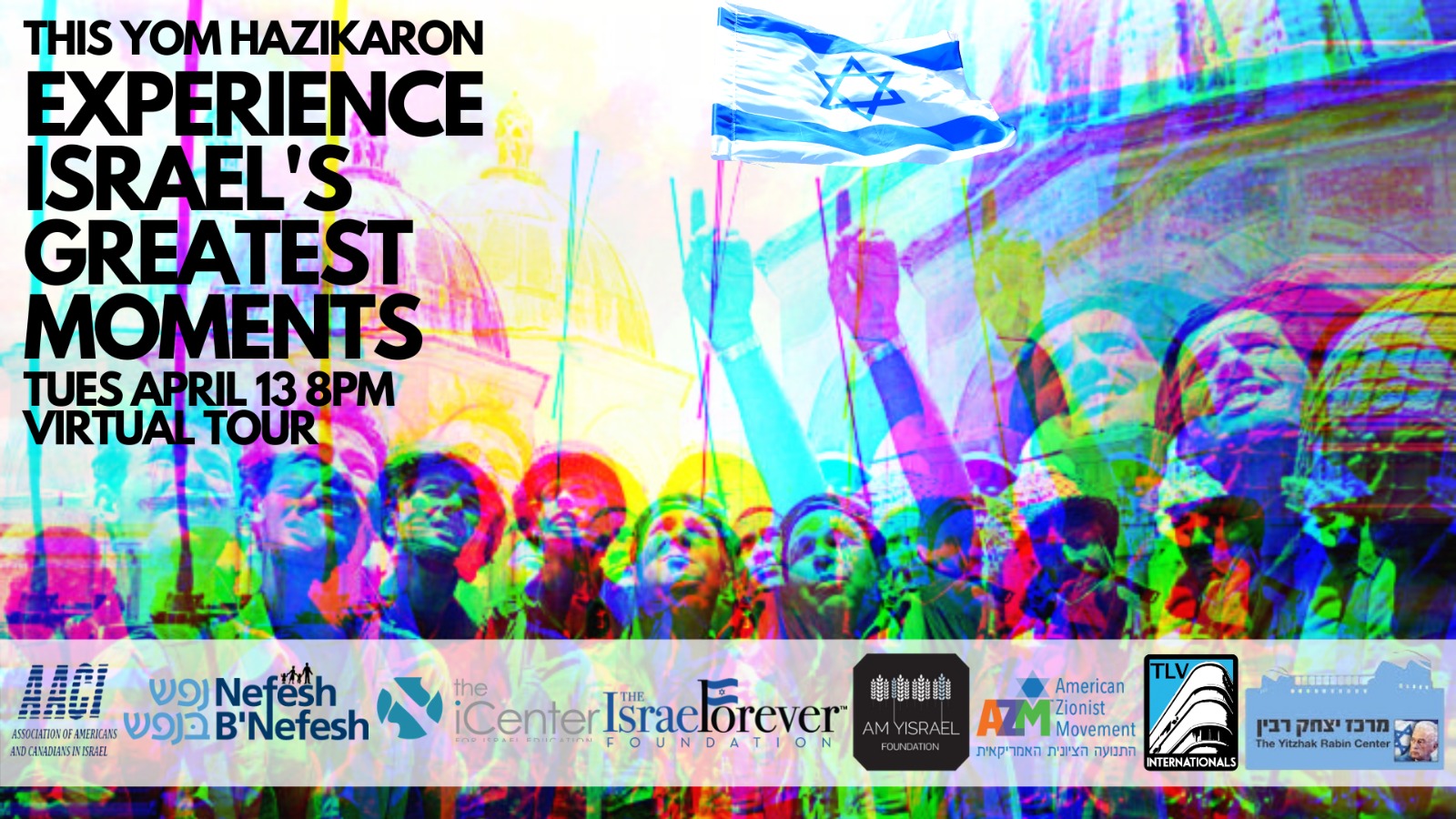 Yom HaZikaron 2021
Experience Israel's Greatest Moments
Global Virtual Mega Event – National Memorial Siren
Powered by the Israel Museum at the Yitzhak Rabin Center
What: Our virtual memorial tour in-English is in honor of Israel's fallen soldiers and victims of terror. The event will be led by leading curators and educators who will show and tell Israel's story from the early 20's to today, through Israel's wars, victories, losses, triumphs, dilemmas, and strength.
12:45pm ET / 7:45pm IL – Zoom will open up with classic Yom HaZikaron Israeli songs
1:00pm ET / 8:00pm IL – Moment of silence standing together for the national siren
1:02pm ET / 8:02pm IL – Virtual historic tour will begin
2:00pm ET / 9:00pm IL – Tour will finish followed by Q&A with museum educators

When: Tuesday April 13th, 8pm IL // 1pm ET
Who: Young Zionists Worldwide
Cost: FREE
Zoom: Link will be sent to everyone who RSVPs in advance
---
About Our Partners:
Yitzhak Rabin Center is the national institute established by the Knesset in 1997 that advances the legacy of the late Israeli Prime Minister Yitzhak Rabin, a path-breaking, visionary leader whose life was cut short in a devastating assassination. The Center presents Yitzhak Rabin's remarkable life and tragic death, pivotal elements of the history of Israel, whose impact must not be ignored or forgotten lest risk the recurrence of such shattering events. The Center's mission is to ensure that the vital lessons from this story are actively remembered and used to shape an Israeli society and leadership dedicated to open dialogue, democratic value, Zionism s and social cohesion.
American Zionist Movement (AZM) is comprised of 33 national Jewish Zionist organizations and works across a broad ideological, political and religious spectrum linking the American Jewish community together in support of Israel, Zionism and the Jewish people. Known as AZM since 1993, it is the Zionist federation in the United States affiliated with the World Zionist Organization (WZO). The AZM and its constituent organizations represent American Zionists within the National Institutions of Israel, including the WZO, The Jewish Agency for Israel and the Keren Kayemeth LeIsrael. AZM works to promote and defend Zionism in the United States; to deepen and expand the active relationship of the American Jewish Community to Zionism in a contemporary context; to facilitate dialogue and collaboration among Zionist organizations through and with the AZM; and to be a central hub for Zionist resources in America.
Israel Forever Foundation is an Israel Engagement Organization that develops, supports and promotes virtual experiential learning opportunities to celebrate and strengthen the personal connection to Israel for people around the world. We place Israel at your fingertips through our innovative programming and initiatives. We hope to encourage a global exchange of ideas, goodwill and generosity between the peoples of the world and Israel without regard to religion, race or partisan politics through the highlighting of the rich contributions of Israel and the Jewish People to the arts and sciences, history and heritage, and democracy and civilization.
The iCenter advances excellence in Israel education by serving as the North American hub and catalyst for shaping and strengthening the field. In collaboration with hundreds of partner institutions, The iCenter supports educators across settings with training, tools, and resources to bring Israel into their students' lives. Through content that draws on Israel's richness and diversity, delivered by passionate and knowledgeable educators, learners develop meaningful relationships with Israel and understand Israel as core to their Jewish identities.
Americans & Canadians Abroad in Israel (AACI) is a nonprofit organization that was established in 1951 to help North American immigrants acclimate to Israeli society and to build strong ties between North American Jewish communities and Israel. AACI's services are available to all English speakers.
Nefesh b'Nefesh was founded in 2002 with the mission to make the Aliyah process easier facilitate the integration of new Olim into Israeli society and to educate the Jews of the Diaspora as to the centrality of Israel to the Jewish People. By removing professional, logistical and financial obstacles, and sharing the Aliyah story of Olim actively building the State of Israel, we encourage others to actualize their Aliyah dreams. We are dedicated to making each Oleh, and every Aliyah, a success.
TLV Internationals In the past decade, Tel Aviv has become the premiere destination for young Jews from around the globe to move to and call 'home.' TLV Internationals is the lighthouse which attracts and welcomes the newcomer. TLV Internationals coalesces these young voices into a unified community and platform for action within and for the benefit of Tel Aviv and greater Israel. TLV Internationals serves as an advocate for this community's needs with the local and national government. With a following of over 70,000 young men and women from a multitude of nations, backgrounds, religious practices, and professional fields, TLV Internationals has built the largest community organization in Israel.