On the anniversary of Herzl's 1897 first Zionist Congress, the American Zionist Movement, the World Zionist Organization, and The Herzl Center hosted a webinar to learn about its history and modern relevance as we prepare for the upcoming 38th World Zionist Congress in October 2020.
Presentations by: Avraham Duvdevani, Chair of the World Zionist Organization; Dr. Aliza Lavie, Chairperson of The Herzl Center/Former Member of Knesset; Dr. David Breakstone, Deputy Chair of the Jewish Agency; Tamar Cohen and Noa Segal, Herzl Center Bnot Sherut Madrichot / National Service Leaders; David Matlow, World's largest private collector of Herzl memorabilia.
Watch August 31, 2020 Program:
---
Herzl Center: Take A Tour of Mt. Herzl
---
Memorial Wall
You can establish a personal memorial plaque at the Herzl Center on the Mount Herzl in Jerusalem. Dedicate a Memorial for Your Loved Ones. Learn more »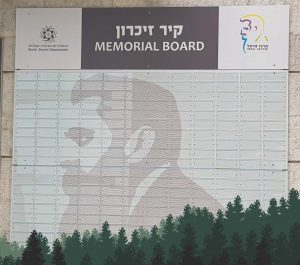 ---
Richard D. Heideman, AZM President, Message for Herzl's 160th Birthday
May 4, 2020

---
Herzl Project
David Matlow owns the world's largest collection of Herzl memorabilia and his Herzl Project is a one person initiative to inform people about Herzl and inspire them to complete his dream.
Check out his book Collecting The Dream