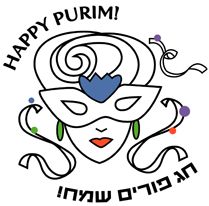 Dear AZM Friend,
Imagine a soldier standing guard. It's dark and silent. There is no town, no synagogue, nothing within a 40 kilometer radius.  A rocket streaks overhead reminding him, again, why he is here.  Purim is coming and Ronen is remembering the Purim parties he had with his friends back home.  He's thinking about his ima's oznei haman (hamentashen) and wishing he could bite into one now.  Ronen's fellow soldier, Alexsey, is thinking about his parents, but they are far away in Smolensk.  His whole unit feels a bit sad to be away from friends and family today, but then a truck draws up.  The unit commander has brought special treats for all from America!
For more than two decades The American Zionist Movement (AZM) has sought to touch these front line soldiers with its Purim Connection – an opportunity for American Jews to demonstrate their solidarity with Israelis who serve on the frontline in defense of Israel and with the youngest and most at-risk Israelis.
This year the Purim Connection is also making a special effort to reach "Lone Soldiers."  There are 2,500 soldiers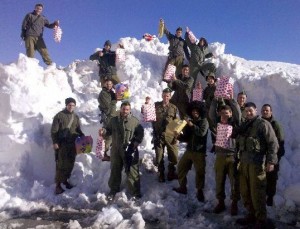 serving in the IDF who have no family in Israel.  Some are new immigrants from North America; others are from the former Soviet Union, Ethiopia and other countries.  They are particularly vulnerable and it is especially meaningful when they receive a holiday package.  In addition, children with special needs in the south will also receive gifts from you.
Wouldn't you like to do something special this Purim?  Even a small donation will help a young child or a lonely soldier feel cared for and remembered.
Not only will these gifts improve the spirits of the receivers – they also support the Israeli economy, as all products used are made in Israel. In addition, in Israel, the mishloach manot packages will be delivered by young Jews: members of Zionist youth movements and students on year programs. This is one more tangible way in which we are building the connections between our young people and our homeland.
Please make your contribution online – go to www.azm.org/purim2012. Or send a check in the mail to: American Zionist Movement Purim Connection, 633 Third Avenue – 21st floor, New York, NY, 10017-8157.
Your mishloach manot gift will tell an Israeli soldier or child that you care. It's a gesture that will long be remembered. But the deadline is coming up quickly.  We ask that donations be received no later than March 15, 2012. Please don't delay!
We thank you; and Ronen, the children of Kiryat Gat and Kiryat Malachi, and all of Israel thanks you as well.
Chag sameach and Zion greetings.
Special note: AZM is very appreciative for the assistance provided by the volunteers from Magshemei Herut and by Yashar L'Chayal in Israel, and for the support provided by AZM member organizations, particularly AMIT and Mercaz USA.