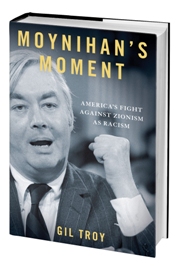 Gil Troy is a leading political historian, and one of today's most prominent activists in the fight against the delegitimization of Israel. He is Professor of History at McGill University in Montreal, and a Research Fellow at the Shalom Hartman Institute in Jerusalem. Professor Troy's articles have been published in The New York Times, The New Republic, and other major media outlets. He writes a weekly column for The Jerusalem Post, and is Editor-at-Large of the "Open Zion" blog on The Daily Beast. Professor Troy is the author of eight books, including biographies of Ronald Reagan and Hillary Rodham Clinton.
In his newest book, Moynihan's Moment, which was just published by Oxford University Press, Professor Troy combines his expertise in American history with his passion for Israel. Moynihan's Moment tells the previously untold story of the 1975 UN resolution that called Zionism a form of racism, and the remarkable fight–led by legendary statesman Daniel Patrick Moynihan–to prevent its passage. Jewish Ideas Daily included Moynihan's Moment in its list of the Best Jewish Books of 2012. Elie Wiesel has called it "superb," and has said that "it demonstrates [Gil Troy's] power of critical analysis as well as his commitment to what is eternal and noble in Jewishness."
Buy now for $20.00
To learn more about Gil Troy, please visit www.giltroy.com.