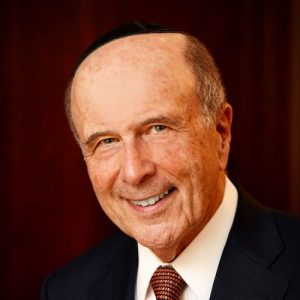 Martin Oliner was born in 1947 in a German DP camp. A child of Holocaust survivors, he was the first member of his family to graduate from high school and became a successful attorney, businessman, and self-made philanthropist.
Devoted to strengthening the ties between the United States and Israel, he currently serves as Co-President of the Religious Zionists of America-Mizrachi, Chair of Israel Bonds New York Region, Committee member of the Jewish Agency, Board member of B'nai B'rith, and a member of the United States Holocaust Memorial Council for a term expiring January 15, 2026.
Martin received a J.D. and an L.L.M. in Taxation with honors from New York University Law School, and is a member of Phi Betta Kappa and the Order of the Coif. He has taught at New York University Law School, Touro College School of Law, New York Law School and the School of Contemporary Studies at CUNY.
As an attorney, he has engaged in private practice since 1972 and has worked extensively with multinational financial institutions to restructure a wide variety of distressed investments in locations across the United States, Europe, and Asia.
Since 1992, Mr. Oliner has served full time as Chairman of the Board of Directors, President and Chief Executive Officer of First Lincoln Holdings, an insurance and real estate holding company. He has also served as a Director of Regency Equities, Asian Oceanic Capital Corporation, and New Navy LDA.
A passionate proponent of education, Martin served as one of six members of the Executive Board of Touro College and has been a trustee for over thirty years. In that time, he helped guide the College through significant, long term growth including the development of graduate and professional programs alongside an extensive building program with new campuses in Brooklyn, Queens, Manhattan, Long Island, Las Vegas and Los Angeles, a medical campus in Harlem, and new affiliated campuses in Moscow, Berlin and Israel.
He is also a founder of the San Francisco School of Osteopathic Medicine and has served as a director of the New York School of Podiatry.
He is the founding publisher and editor-in-chief of The Jewish Word, a monthly newspaper. His writings have been published extensively in the Jerusalem Post, The Jewish Press, and New York Jewish Week.
Locally, Martin was elected to the maximum three terms as the Mayor of the Village of Lawrence, New York where he served from 2010- 2016. He also served as President of his synagogue, Shaaray Tefila of Lawrence.
A resident of Lawrence, NY, Martin is married to Reva and they have three children and nine grandchildren.