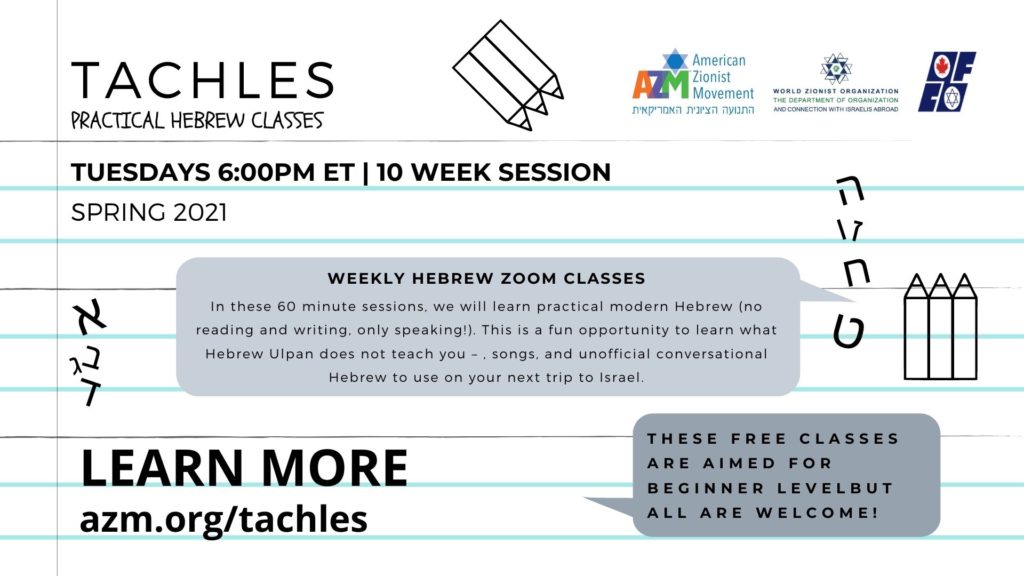 Join us for our Spring 2021 session of "Tachles: Hebrew on Zoom", hosted by American Zionist Movement, World Zionist Organization (Department of Organization and Connection with Israelis Abroad) and the Canadian Zionist Federation.
The 10 week online classes will take place on Tuesdays at 6:00PM ET from March 16 – June 1, 2021.
During these 60 minute sessions, practical modern Hebrew will be taught, including slang, songs, and conversational Hebrew for participants to use on their next trip to Israel.
There is no registration fee but a contribution is requested to help defray class costs (suggested minimum $18 per person donation).
Registration is still open. If you are interested to registering, please click here to fill out the form below. Upon completion you will be redirected to Zoom to finalize your registration and receive your unique link to join class.
For further information, please contact AZM at azm@azm.org.
MATERIALS, HANDOUTS & VIDEOS
WEEK 1: March 16, 2021
*Click on an item to download and print
WEEK 2: March 23, 2021
*Click on an item to download and print
WEEK 3: March 30, 2021
*Click on an item to download and print
WEEK 4: April 6, 2021
*Click on an item to download and print
WEEK 5: April 20, 2021
*Click on an item to download and print
WEEK 6: April 27, 2021
*Click on an item to download and print