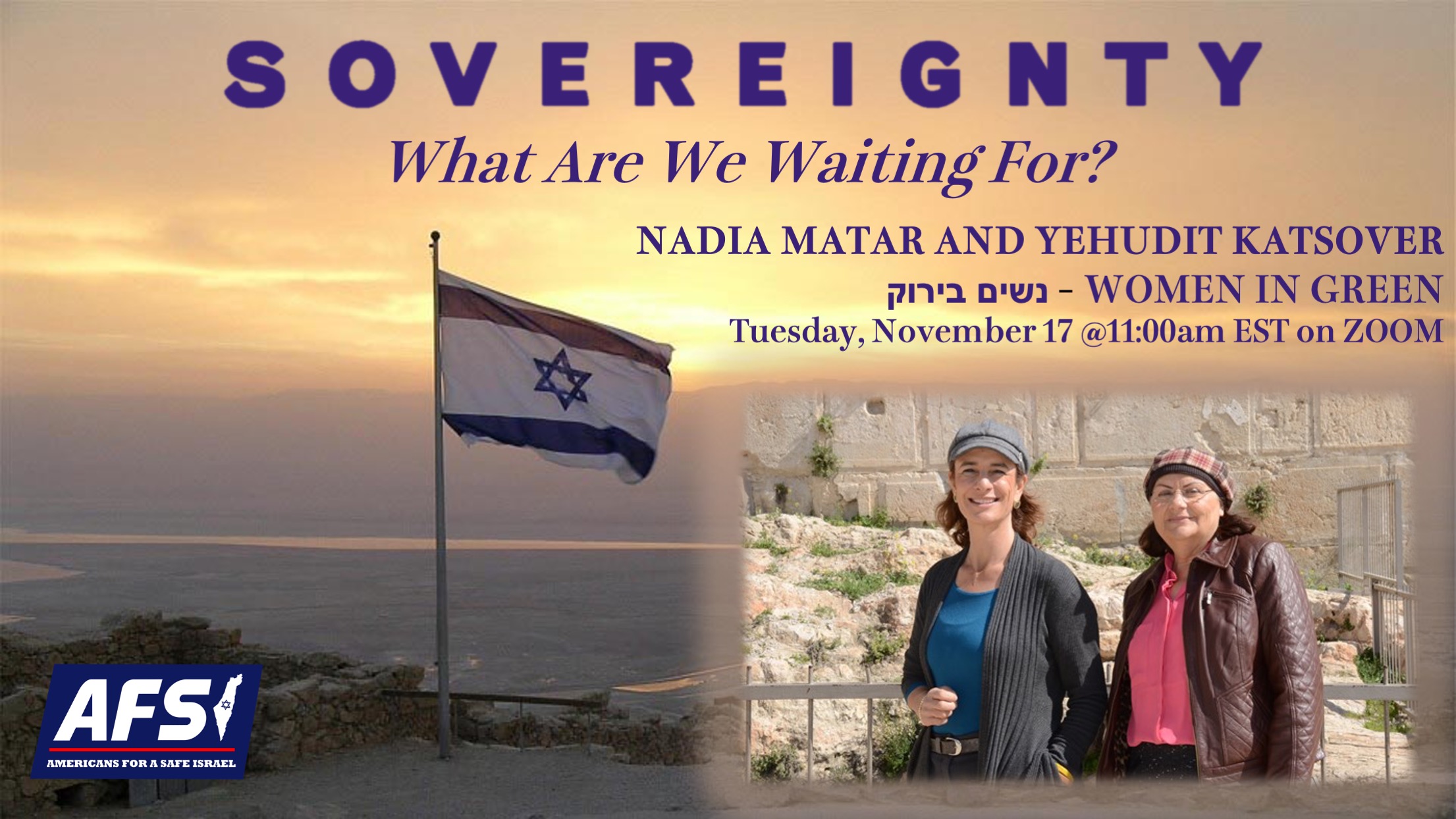 Local Time
Timezone:

America/Toronto

Date:

Nov 17 2020

Time:

11:00 am - 12:00 pm
Date
Nov 17 2020
Expired!
Time
11:00 am - 12:00 pm
Cost
No charge
Sovereignty: What Are We Waiting For?
The Women in Green, founded in Israel in 1993 by the late Ruth and Michael Matar, is a grassroots movement of women and men, young and old, secular and religious, all bound together by a shared love and concern for the Land of Israel. Today, Nadia Matar and Yehudit Katsover serve as its Co-Chairs.
Nadia Matar was born in Antwerp, Belgium and made aliyah to Israel alone at the age of 18 in 1984. She and her husband David have six children and live in Efrat. Previously, she moved her family to Shirat HaYam in Gush Katif in 2004 when Ariel Sharon decided to dismantle Jewish settlements in the Gaza Strip.
Yehudit Katsover was part of the group of women who in 1979 entered the Beit Hadassah complex in Hebron, an act that according to many paved the way for establishing a Jewish community in the city.
Nadia and Yehudit are the founders and driving force behind the Sovereignty Movement, which is dedicated to safeguarding our G-d given Biblical homeland. They act out of the belief in the central role of the Land of Israel to the future of the Jewish People; "Eretz Yisrael Le'Am Yisrael" – "The Land of Israel belongs to the People of Israel" is their motto.
They are popularly known as "the Women in Green" because of the green hats they used to wear in the 1990's in their campaign explaining the dangers of the Oslo Accords which called for the abandonment of large and central parts of our homeland and the shrinking of Israel to the "Green Line", the pre-1967 borders.
In 2019, Nadia and Yehudit were recipients of the Moskowitz Prize for Zionism's "Lion of Zion" award.