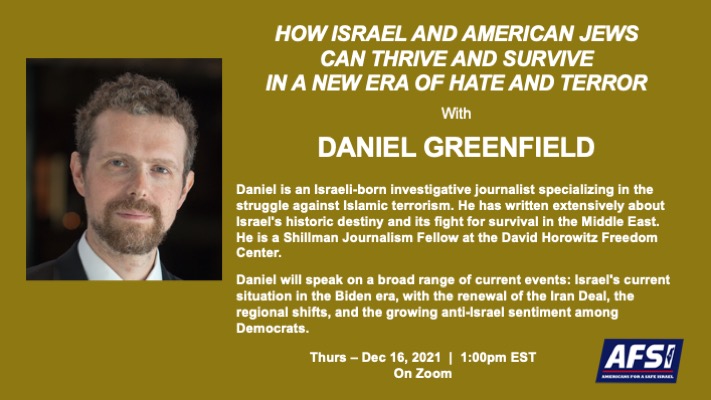 How Israel and American Jews Can Survive and Thrive in a New Era of Hate and Terror
Americans For A Safe Israel/AFSI is pleased to present Daniel Greenfield. This meeting was sponsored by Carol L. Flatto, AFSI South Florida Chapter Chair.
Daniel is an Israeli-born investigative journalist specializing in the struggle against Islamic terrorism. He has written extensively about Israel's historic destiny and its fight for survival in the Middle East. He is a Shillman Journalism Fellow at the David Horowitz Freedom Center.
He is an author at FrontPage Magazine. Daniel's journalism can also be found on his blog, Sultan Knish.
Israel faces a renewed Iran Deal and renewed support for terrorism, and American Jews face the Anti-Semitism of the Squad. How can American Jews and Israel survive and thrive in the face of growing threats of annihilation and hatred?
From Anti-Semitic street violence in New York and Los Angeles to escalating calls for the one state destruction of Israel, the political threat is more serious than ever.
But the Abraham Accords and new political alliances also offer more possibilities than ever.
What can Israel and what can we do to take advantage of these opportunities and resist those who hate us and want to destroy us?
Q&A follows Daniel's presentation.