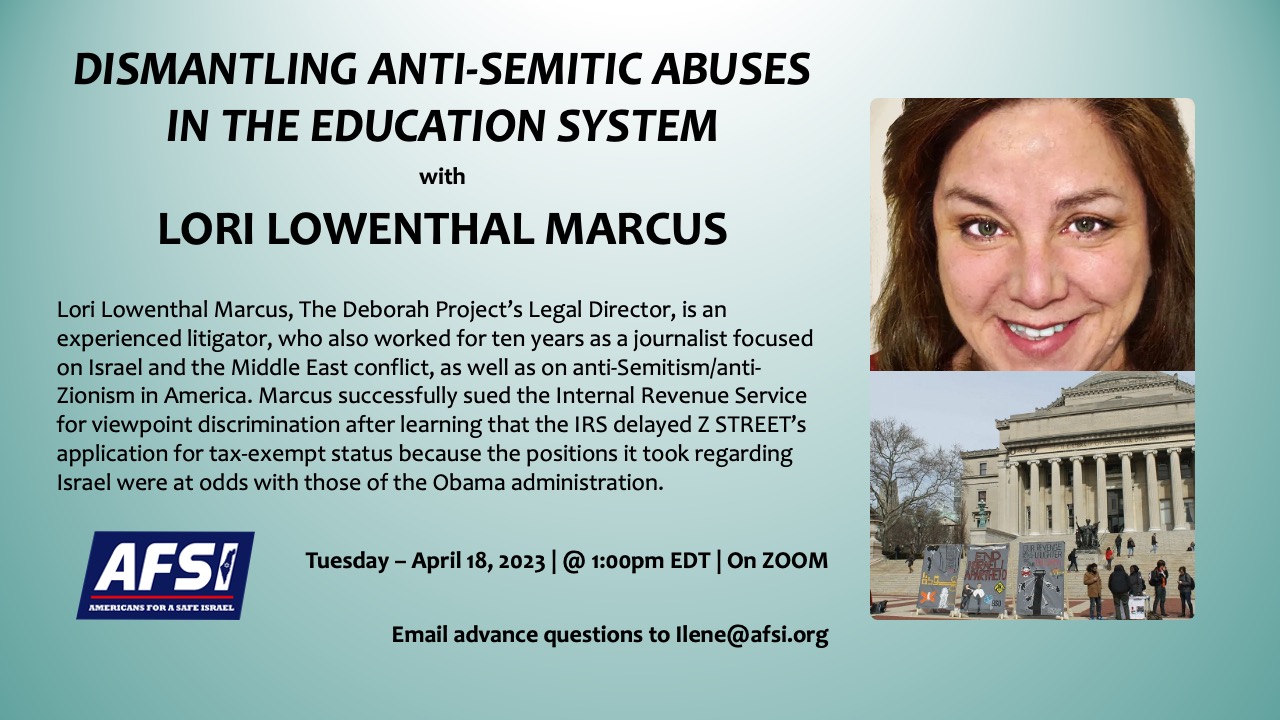 Dismantling Anti-Semitic/Anti-Zionist Abuses in the Education System
Lori Lowenthal Marcus, The Deborah Project's Legal Director, is an experienced litigator, who also worked for ten years as a journalist focused on Israel and the Middle East conflict, as well as on anti-Semitism/anti-Zionism in America. Her articles, op-eds and columns have appeared in national and international media including the Wall Street Journal, the Weekly Standard, the Jerusalem Post, and many others. Founder of Z STREET, an educational non-profit devoted to educating the public about the Middle East and about the response of democratic nations to terror, Marcus successfully sued the Internal Revenue Service for viewpoint discrimination after learning that the IRS delayed Z STREET's application for tax-exempt status because the positions it took regarding Israel were at odds with those of the Obama administration. Marcus is a graduate of Brandeis University, has two masters' degrees from Bryn Mawr College, and received her J.D. from Harvard Law School.
The Deborah Project, founded by Harvard Law School professor Jesse Fried and staffed by experienced volunteer and staff attorneys, provides legal assistance on a pro bono basis to those being discriminated against in educational settings, either because they are Jewish and/or pro-Israel. The aim of the Deborah Project is to use legal skills and tools to uncover, publicize and dismantle anti-Semitic abuses in educational systems, with the aim of bringing wrongdoers to justice and deterring future abuses.
Email advance questions to ilene@afsi.org
REGISTER ON ZOOM:
https://us02web.zoom.us/meeting/register/tZwrdemvpz0vGNQXcnIPAIG021-dlMcGBsyw