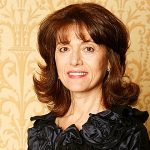 Dr. Francine S. Stein is active in the American Zionist movement. She has served as the chair of programming and sits on the Cabinet and Board of the AZM. She has also chaired the AZM biennial assemblies for the last administration.
Francine is also a Past National President of AMIT.  She is currently serving as co-chairperson of the AMIT Yom Yerushalayim 50th anniversary mission. She also represents AMIT/World Mizrachi as a committee member of the Jewish Agency Board of Governors.
Dr. Stein is a pediatrician specializing in behavior/developmental pediatrics currently in private practice in Englewood. She attended New York Medical College in Valhalla, New York, where she received her M.D. degree. She served her internship and residency in Pediatrics at Montefiore Medical Center in the Bronx, N.Y. and her fellowship in Child Development at New York Hospital in NYC.
Francine is married to Dr. Aaron Stein, a cardiologist. They are the parents of three children. Beth, Michael, and Gary, They are the proud grandparents of Evie, Hannah and Andrew Lipschitz and Levi and Jonah Stein.