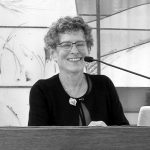 Marilyn comes to the presidency of MERCAZ USA, the Zionist arm of the Conservative Movement, after a distinguished career in leadership capacities for MERCAZ USA and the larger Conservative Movement as well as in her professional career.  An active member of the MERCAZ Board of Directors, she has been served at various times as the Membership and Committee Co-Chair, Treasurer and most recently Vice President and has attended several World Zionist Congresses and meetings of the World Zionist Organization's Va'ad HaPoel.  For the 2015 Zionist Congress elections, she represented the MERCAZ USA on the Area Election Committee and also co-chaired the MERCAZ/Conservative Movement Election Committee.  She has also sat on the American Zionist Movement Board as a MERCAZ USA representative for a number of years and currently serves on the AZM Cabinet and its Membership and Strategic Planning Committees. Marilyn also served on the AZM Strategic Planning Committee,
Marilyn holds a B.A. in Biology from Brandeis University and a Ph.D. in Pharmacology from New York University and worked at the Consumer Product Safety Commission (CPSC) for over 30 years.  While working at CPSC, she was the lead scientist on a number of projects, testifying before Congress, chairing interagency committees, and negotiating on behalf of the United States with other countries. Her professional roles honed her leadership, negotiating and consensus building skills.
Marilyn married Gary in June 1967.  They have two children, Rebecca and David.