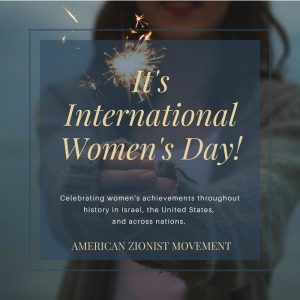 Today, March 8th we are marking International Women's Day – to celebrate the social, economic, cultural, and political achievements of women.
This year #internationalwomensday appropriately falls just before Purim, a holiday in which an important Jewish heroine – Queen Esther – played such a key role in our history.
For many years in March – during Women's History Month – the American Zionist Movement has highlighted "FeminIsrael" to focus on and draw attention to Israeli women and female Zionist leaders and their tremendous contributions to the State of Israel, Zionism and the Jewish people.
AZM is proud to have among its constituent members five women's Zionist Organizations – AMIT; Emunah of America; Hadassah – Women's Zionist Organization of America; NA'AMAT USA And WIZO USA.
Learn more about the Women of Zionism in this video from OpenDor Media (formerly Jerusalem U)
Learn more on Zionism and Feminism in these resources from the Israel Forever Foundation by clicking HERE.
Please also vote by Wednesday, March 11th in the US Election for the World Zionist Congress by clicking HERE. On the 15 slates that are running there are 733 female candidates, an increase of over 64% from the last election. Learn more HERE.