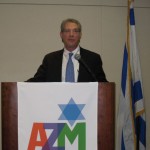 Presidential Acceptance Address AZM Biennial Assembly October 18, 2009/30 Tishrei, 5770
Chodesh tov l'kulam, this last day of Tishrei. Tomorrow welcome the month of Cheshvan 5770. Sources record Chesvan as the month in which Noach's flood occurred and it is referred to as Mar Chesvan, or drippy Chesvan. By any estimation that is an accurate appellation.
Thank you for being here. Thank you for the privilege of serving you and the Zionist Movement these past two years and for the next two years.
Thank you also to: Marlene, Officers, Cabinet, Board, Karen, Becky, Ben, Susan,
If I go too fast and if you like what is being said tell me to slow down otherwise….
In the wake of Hurricane Katrina there was a revue staged in New Orleans, where as most of you know I reside. The name of the revue was "I'm Still Here, Me!" and it was very amusing, a comedic balm in the middle of the aftermath. Why do I mention this here now? Because, having survived both Katrina and the last few years in the Jewish world both here at home and in Israel-in many ways deeply disturbing and distressing times -it is reassuring to say to oneself, "I'm still here, me,!" And I say with confidence to you today that AZM? We're still here too, cher!!!"
We managed to stay within budget guidelines and see some increases in our modest fund raising efforts: Purim Connection and

Yom Kef, now

Yom Zion.

Expanded membership in AZM Cabinet to present and former JAFI leadership.

A small group has met to begin to envision AZM in the future.

We have changed professional leadership in Chicago and welcome Becky Adelberg to the AZM family. Becky has initiated new activity there to supplement the annual Israeli Concert. The concert is in a few weeks and this year honors Rosalie and the late Phil Grad, long-time devoted Zionists both. We wish AZM Chicago

chatzlacha

for the concert and in growing its programs and activities in the coming months.

Updated www presence, increased technology usage in AZM activities and programs.

Working to bring the American Zionist movement, with a "small m", together to act as a unit in working with Jerusalem. There has been limited success. Cooperation with federations in other parts of the world is fine. An example is the dialogue opened last February at the JAFI BOG meetings by Rabbi Richard Hirsch, Chair of the ZGC, after several federations contacted him about elections. Rabbi Hirsch invited us to meet with the Presidium and that discussion generated an international committee that brought a resolution forward that was adopted unanimously at the meeting of the ZGC in June and which is now the subject of a court challenge. Make of that what you will.

There is on-going dialogue with organizations who continue to choose to operate outside the AZM umbrella to encourage them to come home.

Efforts continue to keep all members' dues current.

Speaking of elections, let's not; oh well, let's. David has covered the issues pretty well. The recent elections in Israel and here in the US have brought new perspectives, alignments and realities to bear in the world. The election in Israeli and its resulting coalition is having ripple effects that are felt in the Zionist world that is now preparing for, groan, possible elections around the world for the 36th World Zionist Congress now scheduled for June 15-17 2010 in Jerusalem.

So, negotiations continue to resolve any need for costly and poorly polled elections and, simultaneously, preparations are underway in case there should be elections. The American Area Election Committee is ably chaired by AZM VP Evelyn Seelig. Regardless of whether there are elections or not the exercise of planning for them causes, if nothing else, a self-assessment of the Zionist the world.

David Breakstone has also updated us on the efforts to reform, renew and restructure the WZO-Oy!

These are indeed interesting times.

Thanks to Jacques Torczyner for securing a $100,000 grant from the Dorothy and Harold Greenwald Foundation. The intent is to bring the Zionist message to underserved communities in the US. We expect excellent results that will allow us to ask for more funding.

Re-established the Herzl Circle under the watch of Bobi Klotz; it has grown beyond our expectations. An endeavor that will never be sold out.
So, why do we few stand in the face of cynicism, insularity, "me"-ness, withdrawal, bowling alone in front of a laptop or netbook or smartphone, why do we persevere? What is it about Zionism that compels us to be involved, nay, engaged?
If it were not such a supreme achievement it would seem almost ironic that Zionism, the only "ism"- the nationalist movements of the past 200 years- the only "ism" to have survived the 20th Century, is viewed as irrelevant. The country that was created by that "ism" is one of the marvels, if not miracles, of the modern world; the only Jewish state in the last 2,000 years. Why do we Zionists allow ourselves to be marginalized? It has to stop. There is too much truly important work ahead of us.
If the Zionist movement is truly to be independent and able to raise funds for its programs and operations without the Jewish Agency's development apparatuses, that is one huge job we have ahead of us. We heard this morning from the Chair of the J-A- Executive about his vision for the future of the Agency and the projected role of the 50% WZO partnership. It behooves us, AZM, as the largest territorial Zionist federation and delegation to the Congress, to develop a vision for the WZO and the place of the territorial federations within it. We need to be serious about this work.
The success of the Zionist Movement was to mobilize and harness the collective power of the Jewish People and give it sufficient self-confidence to create a country, a nation, now among most active economies in the world, revive a language and a drive to repopulate themselves to pre-Shoah numbers. No small accomplishment. Nor one that we, the great-or even great-great grandchildren of those pioneers and others who came to the party later, can allow to languish on the pillow of complacency. We owe our forebears more than that. We have one one objective, one goal: Raising Jewish Awareness of and Involvement with Israel.
The scourge that is anti-Semitism continues to find kindling in the underbrush of the world's social order. We will not allow the Ahmadinejad's or Chavez's to spread their baseless venom unchecked. We cannot allow their campaigns of defamation and delegitimization of Israel and Jews to gain a majority in world public opinion. Lawfare, the use of laws as warfare to attack Israel and Israelis around the globe, cannot be allowed to become common parlance. Lawfare is pure anti-Semitism. We owe that to countless nameless, numbers of our people.
Where does the phrase, "NEVER AGAIN resonate in your life? Do you say the words? Ever? Occasionally? On Yom haShoah? Monthly? Weekly? Daily? Dare we lose touch with that simple phrase NEVER AGAIN? Yiskor is a very important concept to the Jew. We remember, and in remembering we honor and build and continue.
Speaking of remembering, let us not forget Gilad Shalit in Hamas' hands for more than one thousand days. You can keep count of the days on the AZM website. And let us not forget his parents Aviva and Noam and the terror under which they live. Encourage your organizations to write letters and brandish dog tags in Gilad's name. Call his name out and that of his family at services for miSheberach. We remember, too, Ehud,Udi Goldwasser and Eldad Regev, cruelly murdered by Hezbolla and send our condolences to their grieving families. We are still in shloshim for Asaf Ramon, son of Ilan Ramon the first Israeli astronaut. We hold in our hearts those victims of terror in Israel whose names we recited over the years during the most recent assault on Israel's existence called by many Intifada. And there are the murdered students of Yeshivat Mercaz haRav, and the Mumbai victims to activate our tickler files and inspire us to action.
We owe our forebears to remember and transmit; but, more importantly, we owe our children access to their portal to the history of their people. This will heighten their sense of ownership in the Jewish people and our Zionist enterprise. My generation and subsequent ones in the US do not know Jewish powerlessness or Jewish poverty firsthand. If they exist, it sounds vestigial and something that is happening in far-flung communities and, nu? "the federation will take care of them." Indeed, there areJews in need of food and sustenance in Israel and, throughout the world, there are Jewish communities in distress, there is aliyah of necessity; but nothing close to the scale of the post WWII years and those of the significant aliyah of the 1950's, 80's and 90's. Let us not forget that the Jewish Agency, our Jewish Agency, was the major player in the rescue and resettlement of those Jews. Thankfully the largest Diaspora community was willing to be galvanized at those times on behalf of "a Jewish State." It needs to be re-energized. That energy needs to be re-focused and it takes Zionist certainty of Israel's existence and a vision for its future to make it happen. Im Tirzu!
One additional, short message to da yoots: For no other reason than to associate with like minded Jews from across continents and generations one should join the Zionist ranks. There are people well into their 90's still actively involved with the Zionist movement. They are a special cohort these dedicated Zionists. They cross ideological and political lines united by their passion for the continued existence of the Jewish people as characterized by their homeland. They would love to have you join them.
No other Jewish organization I know mandates 25% participation by those from 18-35 as has the Zionist movement. None. That fact remains a source of great pride to me. The door is open and, this federation at least, is anxious to help its members find and train a new cadre of Zionist leadership. One of the vice-presidents represents youth on the Cabinet and national board. That is by design.
AZM reflects consensus built at a table where Israel's existence is the bottom line. We are not about evaluating and criticizing Israeli foreign or domestic policies, some of our members study such things and take stands on many sides of any issue. That is a characteristic of an umbrella. There can be no denial that Israel faces existential threats from the North and from the South as well as the specter of a nuclear Iran pointing missiles at her. There is no denying the sometimes impossible situations in which Israel finds itself at the UN as Ambassador Shalev has told us.
What, then, is the unique role for AZM, its members, their members and the WZO?
Simply put, it is continually reforging the Israel-Diaspora relationship. Without that relationship, reaffirmed, renewed, refitted to the times, the US-Israel relationship is imperiled.
We have a wonderful ideal and reality to bring before people yet we do not always try to do so. Our constant and consistent reminding the community of Israel's importance and centrality impels others to action. We too often misinterpret others' incorporation of our ideas, programs and activities as competition; but, if you stop to think about it, what higher form of flattery could there be? Let's us Zionists keep coming up with ideas others love so much they take as their own! It can be an idea as big as was the JNF in 1905 or a project tailored to an individual congregation or day school class underwriting a day in Jerusalem for Israeli high school students who otherwise might not visit the eternal capital of the Jewish people, though they might live scant kilometers away. Look around the plethora of Jewish organizations, even in the post-Madoff era. Who besides the Zionist organizations see beyond their own communities to the ideal of building the Jewish state and possible contributions there?
In the coming months AZM will again mount a series of programs and initiatives that our constituents are warmly invited to join. They include, coincidentally there are 10:
Purim Connection '70/'10

delivering

mishloach manot

to at-risk children and IDF members without families for the holy days.

Yom Zion

bringing Israeli high school to Jerusalem

Exploring new concepts of partnership and twinning with the Settlement Div. and the Department for Zionist Activities outside Israel.

Campus directed Programming with USD Hagshama to bolster Jewish students.

The Salute to Israel Parade in New York

The Annual Concert in Chicago

Actions on behalf of Gilad Shalit and other Israeli MIA's

Herzl 150

Preparing for Zionist Elections should there be elections.

Working to unify and strengthen the Zionist movement in the US.
Believe me there are a bunch more but these are enough to keep Karen and Ben very busy.
Our campaign to win over hearts and minds for Israel is not over. Too few American Jews have visited Israel, are involved with Israel, are unaware of the importance of Israel in their lives and the lives of their children and children's children. Our job is to keep bringing these concepts of Israel to the attention of this silent majority. Zionists don't suffer from donor fatigue, we don't get tired, we provide the spark to pick up those whose energy flags. We bring the light of Jewish hope and possibility to overlooked corners of Jewish life as well as to the large hotels and ballrooms. Building a country and a culture is serious business and should be taken seriously by all of us.
Zionism was never a mass movement nor was it very well funded, except perhaps for a few decades in the late 20th Century. Now, we are independent, as though we were ever anything but independent. We will need to garner our own resources going forward. Your organizations and their members will have to, and already are, doing the same. We can work together by bringing national programs to local affiliates and chapters to re-invigorate them with the spirit of Zionism. That spirit which built a country out of an environmentally exhausted beach front and mosquito-infested swamps to host a ravished people who refused to lose hope or belief in Jewish possibility.
The country is not yet built, not all Jews have been there even once much less seriously considered aliyah. Hebrew literacy is woefully inadequate in what could arguably be called the best Jewishly educated generation in hundreds of years, activism on Israel's behalf is constantly needed. We have to maintain a level of visibility and attention in Congress, regardless of our actual numbers, when it comes time to vote in the US.
We need a fully engaged and unified American Zionist coalition to move the American Jewish Community to a place where it is both more comfortable with modern Israel and proud to share in the accomplishment of her modernity- warts and all. If we Zionists, a fractious bunch at best, can coalesce, then we can set a new standard for the rest of the community.
61 years have passed since the state of Israel was founded, 112 years since Theodor Herzl even dreamed of a Jewish state. The bottom line remains, Im TIrzu Ayn Zo Agada, if you will it it is no dream, hence the Theme of our Assembly, Im Tirzu Plus 112. The dream is not dead. The ideal is not achieved. The miracle is there for the reality check. We still sing the Zionist songs from Hatikva on with moist eyes. We continue to build the dream and are repaid with scientific break throughs, IT and High Tech marvels of international scope, medical advances, the most books published by any country, and philosophers and saints and sinners and some great wine. The next generation, the third since the founding of the state, has its work cut out for it, shouldering the responsibility for the future of Israel. Israel is a massive, unique, wonderful inheritance. You are ready for the challenge and all of us stand with you to carry forward the dream of Theodor Herzl for the next 150 years.
Im tirzu ayn zo agadda
Am Israel Chai!!!!