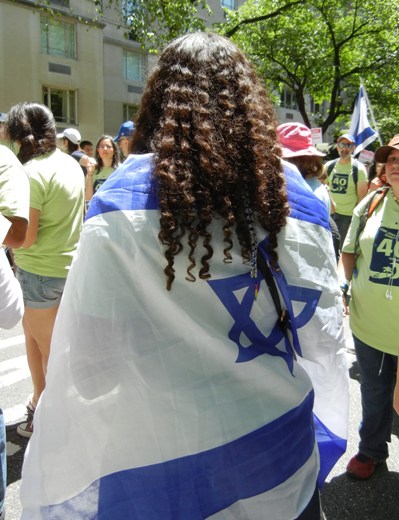 With hundreds of thousands of New Yorkers lining the Celebrate Israel Parade route on June 1, the American Zionist Movement and World Zionist Movement brought Zionist organizations together in a major display of unity and passion. Though the diversity within the Zionist movement was evident, the real story was the unity of purpose that brought all the groups together. Under the watchful eyes of Theodor Herzl, the Tzofim (Israel Scouts) Friendship Caravan sang and danced on the float to the delight of the Zionist leaders and spectators. A colorful and iconic image of the Zionist Movement's founder was featured on the float and on the bright green flags spread throughout the entire delegation.
Following the float were marchers representing Zionist organizations from all over the religious and political spectrums, from AMIT to Emunah to Ameinu and Bnai Zion; from Hadassah and Young Judaea to Habonim Dror and Hashomer Hatzair. Mercaz USA, the Zionist arm of the Conservative Movement, had marching delegations from two major synagogues, Town and Village Synagogue and Forest Hills Jewish Center, along with a number of individual members marching under its banner. ARZA, a major group in its own right, showed their connection to AZM and WZO by carrying the same green flags bearing Herzl's image as they brought the Zionist delegation to a colorful conclusion.
It was a great day for Israel and Jewish people, and an historical one for the Zionist Movement in the United States, which reflected its full range of ideals while embracing Israel as one.