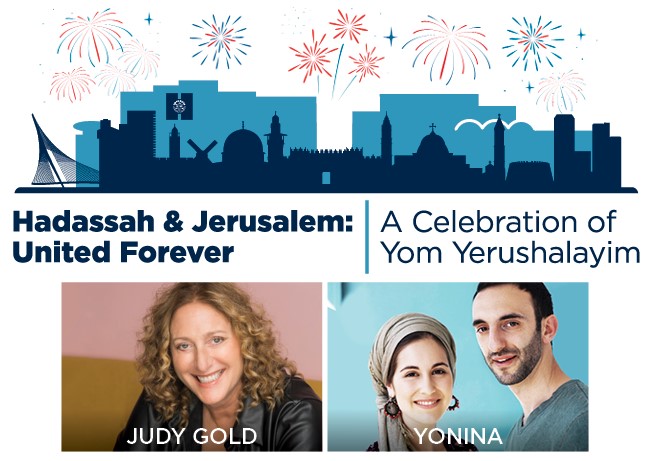 Yom Yerushalayim: A True Expression of Hadassah Zionism
Hadassah's history is woven into the fabric of Jerusalem. Join us for a heartwarming, historical and energetic virtual celebration hosted by celebrity comedian Judy Gold and with a musical performance by Israeli duo Yonina, back by popular demand.
The evening will also feature a message from Deputy Mayor of Jerusalem Fleur Hassan, Hadassah National President Rhoda Smolow and Hadassah CEO Naomi Adler.
This year's festivities will commemorate the 55th anniversary of the reunification of Jerusalem after the Six-Day War, which led to the reunification of our two hospitals. This event will surely move, entertain and inspire you. Reserve your free tickets today for June 1!
Special Keepers of the Gate Reception* — open to Keepers only
7:30 pm ET
Join this pre-event gathering, an exclusive half-hour of entertainment featuring Judy Gold in conversation with our own Linda Freedman Block!
* Interested in becoming a Keeper of the Gate? Interested in increasing your gift? Please contact Crystal Stubbs, National Director of Annual Giving and Youth Initiatives, at cstubbs@hadassah.org to discuss furthering your impact to Hadassah.
A ZOOM LINK WILL BE EMAILED CLOSER TO THE EVENT DATE, TO ALL REGISTRANTS.
Don't wait — sign up now, share with your family and friends. We're excited to celebrate together!