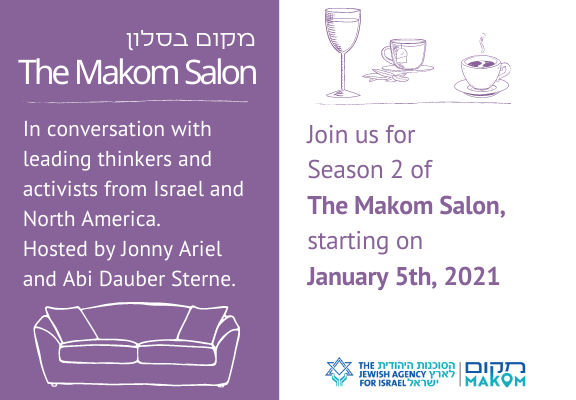 Season 2 of The Makom Salon
Following the great success of the first series of conversations, we're excited to launch the second season of The Makom Salon in January 2021.
Hosted by Jonny Ariel and Abi Dauber Sterne, The Makom Salon features stimulating conversations with leading thinkers and activists from North America and Israel.
Each episode will include guests who'll share their wisdom and experience, and respond to questions from the host.
Each Salon conversation will take place at 10 am PST/ 1 pm EST/ 6 pm GMT/ 8 pm Israel time.
—
Tuesday, January 5, 2021:
Israel Education: The Next Edge – Illuminating the Future of Israel Engagement
Jonny Ariel, Lauren Fisher & Dr. Alex Pomson, hosted by Abi Dauber Sterne
—
Tuesday, January 19, 2021:
Place Matters: The Physics and Metaphysics of the Land
Rabbi Tamar Elad-Appelbaum & Rabbi Asher Lopatin, hosted by Jonny Ariel
—
Tuesday, February 2, 2021:
The US and Us – America, Israel, and the Jews
Dr. Einat Wilf & Prof. David Myers, hosted by Jonny Ariel
—
Tuesday, February 16, 2021:
Love of Israel in the Time of Populism
Pnina Agenyahu & Prof. Jon Levisohn, hosted by Jonny Ariel
—
Tuesday, March 2, 2021:
Feeling at Home in the Homeland
Dr. Nisreen Shehadah & Rabbi Elliot Cosgrove, hosted by Abi Dauber Sterne
—
Tuesday, March 16, 2021:
Will the Real Me Please Stand Up? Journeys of Identity
Irina Nevzlin & Rabbi Angela Warnick Buchdahl, hosted by Abi Dauber Sterne
Next Event
Date

Mar 16 2021

- Jun 01 2021

Time

8:00 am - 6:00 pm