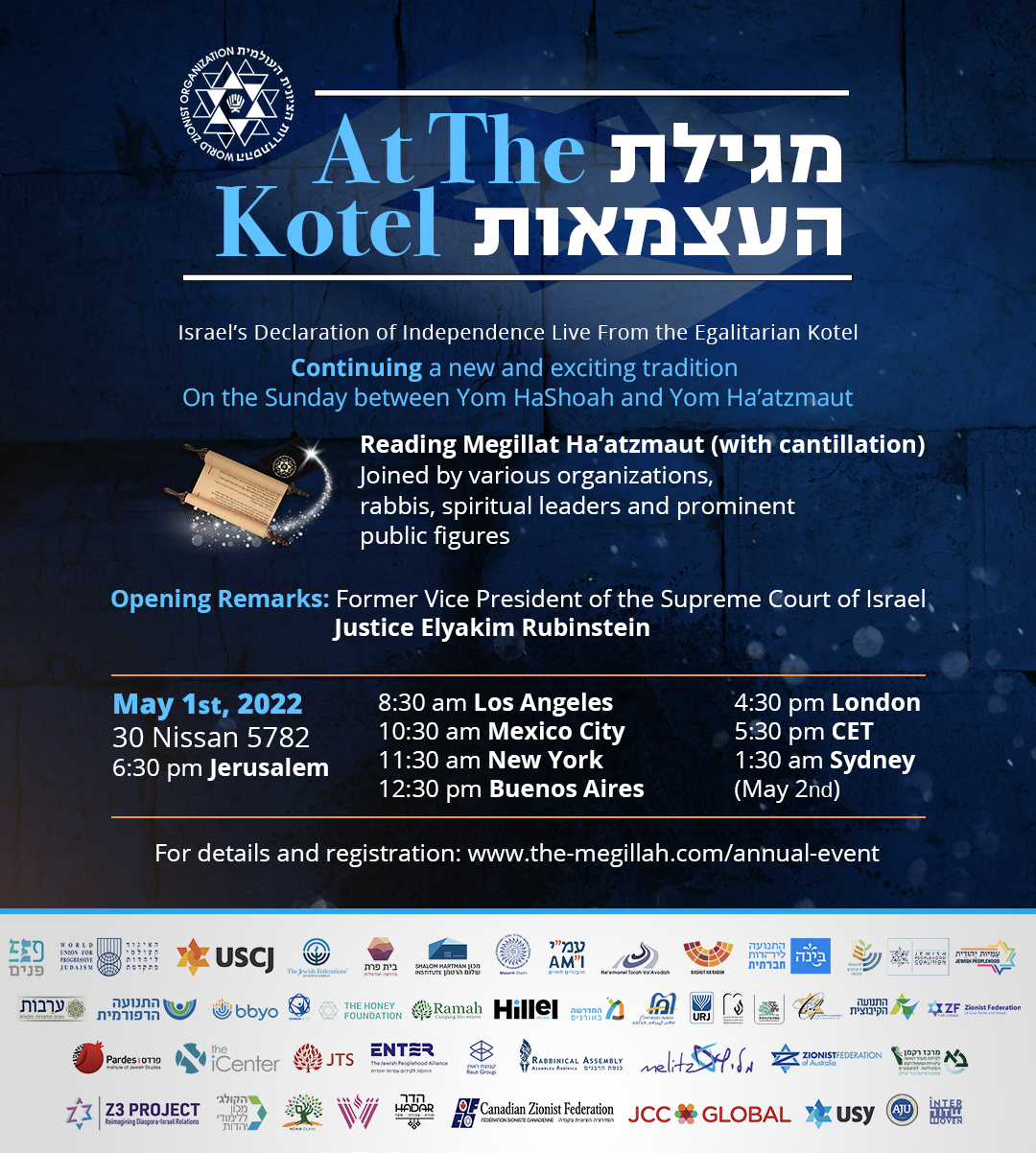 Megillat Ha'atzmaut at the Kotel
The Second Annual Megillat Ha'atzmaut reading at the Kotel is being held this Sunday.
Beyond the general significance of this event to Israelis and Jews around the world, this event holds personal significance as well:
Years ago, when voices of hate were amplified in Israeli news and by Israel's government. This was especially True around celebrations of Israel's Independence Day.
I had a notion that we need a reminder that voices of inclusion and peace are deeply rooted in Jewish and Israeli history, and that those voices should be amplified.
This expression is found in the declaration of independence. being inclusive does not mean being subservient. How can we bring this back into our religious spaces? so I sat to start aligning the long sentences into Trope, dividing the structure into chapters and verses, with the intent of reading them as part of our religious celebrations of Israel's Independence Day.
To my joy, years later this division of tropes was adopted for the World Zionists Organization's Annual Megillat Ha'atzmaut reading.
—
The World Zionist Organization Vice Chair, Dr. Yizhar Hess, introduces a new and exciting tradition to celebrate Israel's Independence Day
Looking towards the upcoming 'Yom Ha'atzmaut' (May 4th), the WZO will be selling 'Megillat Ha'atzmaut' – the Declaration of Independence in a form of an actual physical scroll, with handmade wooden handles (Atzei Chayim) placed in a velvet case. The text of the declaration inscribed onto a canvas and marked with trope(cantillation)symbols, enabling you to chant and sing similarly to reading from the Torah.
Dr. Yizhar Hess: "We have started this new tradition and celebration of Jewish Peoplehood during Yom Ha'atzmaut last year, and we aim that every community or synagogue join us and acquire their own 'Megillah'"
Every year the World Zionist Organization will hold a festive event of reading 'Megillat Ha'atzmaut with trope(cantillation)' at the Egalitarian Kotel(Western Wall).
The event will be broadcast live in different languages to the entire Jewish world.
For more information and orders: www.the-megillah.com
WATCH LIVE ON FACEBOOK: https://www.facebook.com/events/521002893064049