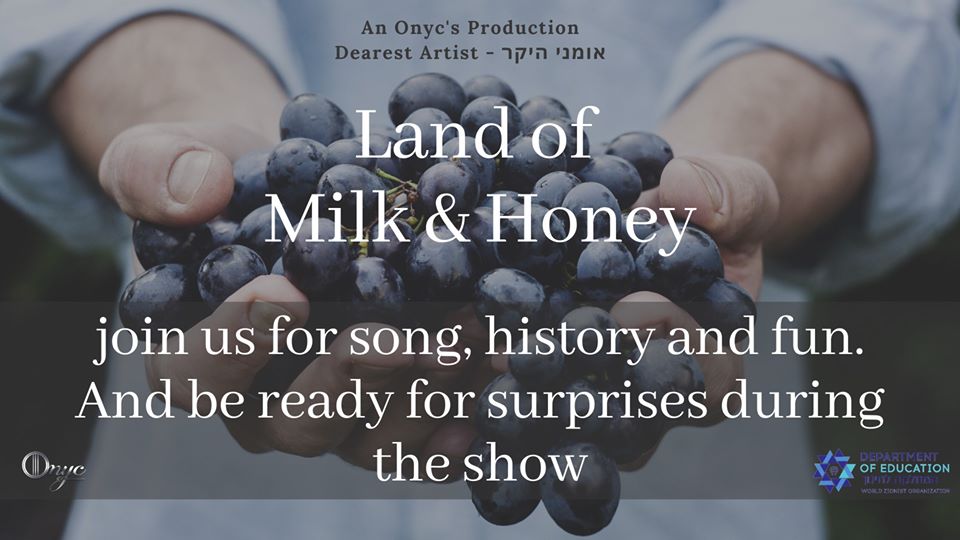 Land of Milk and Honey – Shavuot Special Episode
We are pleased to be a co-sponsor of the WZO Education Department's special Shavuot episode of "Dearest Artists".
We will come together for an educational conversation about the artists who shaped Israel's collective identity and singing selected songs from their repertoire, sung in Hebrew by Claire Ta'ir Harel Ofek, Shir Kaufman, and Hila Naus.
Merging together the Israeli holiday and important milestones in the history of the Zionist community and the kibbutz. Join us for song, history, and fun. And be ready for tasty surprises during the show.
The event will be presented in English and is suitable for adults and children alike.
Click "Going" in the event and we will send you a link to watch the show.
For more information about the "Dear Artists" show and episodes click here: https://www.onycpro.com/dear-artist
Date and time: Sunday, May 31st, 2020 at 7:00 pm EST.
אומני היקר – פרק מיוחד לחג השבועות
המחלקה לחינוך של ההסתדרות הציונית העולמית מארחת את סדרת "אומני היקר" עם פרק מיוחד לכבוד חג שבועות!
הפרק יעסוק בשירים ואמנים אשר התייחסו לחג מההיסטוריה הציונית בכלל והתנועה הקיבוצית בפרט, והתרבות הישראלית. בנוסף, במהלך האירוע יהיו הפתעות טעימות, הסברה על החג, ושירים המבוצעים בעברית על-ידי הזמרות קלייר תאיר, שיר קאופמן והילה נאוס.
האירוע יועבר באנגלית ומתאים למבוגרים וילדים כאחד.
הגיבו going על האירוע כאן ונשלח לכם את הלינק לצפות בהופעה.
למידע נוסף על התוכנית ופרקים נוספים לחצו כאן:
https://www.onycpro.com/dear-artist
יום ראשון ה-31 למאי בשעה 7:00 בערב שעון ניו-יורק