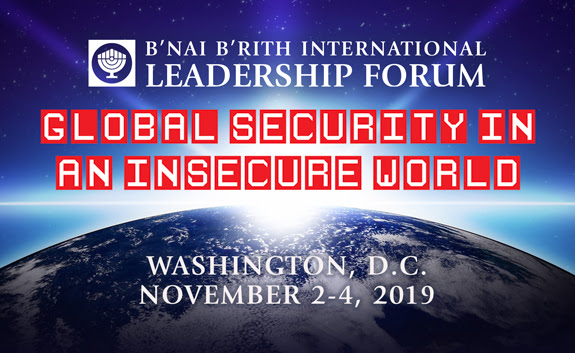 Local Time
Timezone:

America/New_York

Date:

Nov 02 2019

- Nov 04 2019
Date
Nov 02 2019
- Nov 04 2019
Expired!
B'nai B'rith International Leadership Forum 2019
The B'nai B'rith International 2019 Leadership Forum: Global Security In An Insecure World
November 2, 2019 @ 8:00PM — November 4, 2019 @ 3:00PM
B'nai B'rith International members and supporters from around the world will gather at the Washington Marriott Georgetown for the 2019 Leadership Forum. The forum will open the evening of Saturday, November 2 with a full slate of programming through lunch on Monday, November 4. There is an exciting agenda planned to explore the theme of "Global Security in an Insecure World," and how B'nai B'rith is at the fore of one of today's most pressing issues.
This year's program will feature a keynote address by a top U.S. administration official, a special installment of our Diplomatic Encounter Series featuring a Washington-based ambassador and an off-site reception hosted at a foreign embassy. The Leadership Forum will also showcase a screening of "Kids: Chasing Paradise," a powerful new documentary film that follows the stories of activists working to save children from extremism. We will be joined by Director and Executive Producer Richard Green. Registrants will also hear from B'nai B'rith subject matter experts, while engaging with fellow B'nai B'rith leaders on the topic of the day. Included in the forum is a regular meeting of the B'nai B'rith Executive Board of Directors, open to all participants.
A special B'nai B'rith Leadership Forum room rate is available at the Washington Marriott Georgetown at $151/night plus tax for a single or double room. You can make your reservation by clicking here. If you prefer to call in your reservation, please use the following Toll Free #: 877-212-5752 and reference the B'nai B'rith International Leadership Forum.
For additional information and updates, visit our website here.
Please contact Leadership Forum staff at leadership@bnaibrith.org with any questions.
We look forward to seeing you in Washington this November.