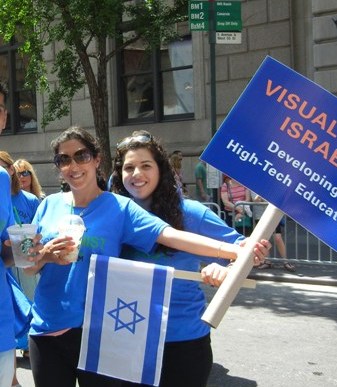 With banners waving and signs held high, hundreds of people proudly marched with the American Zionist Movement and the World Zionist Organization at the 2013 Celebrate Israel Parade on June 2. Every year, more than thirty thousand people march in the parade to show their support of and love for Israel, and hundreds of thousands of spectators crowd sidewalks to cheer for their communities.
This year, AZM and WZO brought many of their constituents together as a "cluster," with representatives from member organizations Amit, Ameinu, Mercaz, Hashomer Hatzair, and Habonim Dror as well as area synagogues Or Shalom, Hebrew Tabernacle, and Congregation Habonim. Hadassah, Young Judaea, ARZA and B'nei Akiva followed, making a delegation of upwards of 1,000 Israel supporters. In keeping with the Parade theme of "Picture Israel," AZM members carried signs in the theme of "Visualizing Israel," each featuring elements of how Israel has contributed to the Jewish community and to the world at large. Phrases included "Realizing Jewish Values," "The Zionist Dream – Now a Reality," "Using Science to Benefit All Humankind," "Developing High-Tech Education" and more, visually unifying the group and underscoring the message.
While waiting to march on the parade route, the AZM contingent and passersby were treated to several performances by the Tzofim Friendship Caravan, a summer delegation of Israeli teenagers who travel around North America and promote Israeli culture through music and dance.