Dear Friend:
This winter brought an historically large blanket of snow to Jerusalem and northern Israel. The Kinneret reached record levels.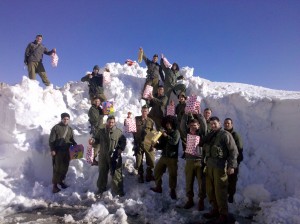 As we view these positive images, let's not forget that it was just a few short weeks ago that Israeli children in the southern part of the country were terrorized by missile attacks numbering in the hundreds. Many lived in safe rooms and shelters for close to two weeks.
There was no school to attend.  The sanitary and living conditions were primitive.  And the rockets kept coming. Yet the children found it within themselves to stand up to the attacks and resumed their lives as soon as they were able. It takes a special strength to do this: Jewish strength supported by a Zionist spirit.
As American Jews and Zionists we can reward and strengthen that resolve through the AZM Purim Connection. Each year we send mishloach  manot (the traditional Purim gift of sweets and other goodies) to Lone Soldiers, to the frontlines of the IDF and to children facing unusual struggles or challenges during the year, like those in Ashkelon and other southern communities.
With your purchase of mishloach  manot  for a child or soldier you create an indelible memory of the gift from abroad. You demonstrate your solidarity, your caring and your connection to the people of Israel.
For $36, $54,  $108 or more you can participate in the Purim traditional custom mishloach manot and at the same time stand in support and solidarity of our fellow Jews in Israel. Please consider your tax-deductible donation to the 2013 American Zionist Movement's Purim Connection 5773. You may send a check or make your gift on our web site: www.azm.org/purim2013.
Zionists are the activists who act. Make a difference. Bring a smile to a young Israeli face. Act now and support the Purim Connection. It is a perfect activity for a religious school or day school class. There are lots of ways to help, taking the first step is vital. Do it now.
Please make your gift by February 22, 2013.
Sincerely,
Rabbi Vernon Kurtz, President
Karen J. Rubinstein, Executive Director