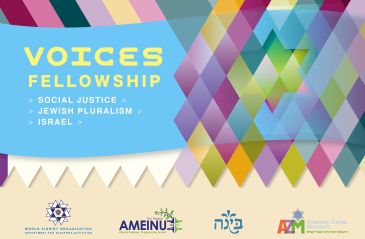 Progressive Jewish communities in North America are often concerned about certain phenomena occurring in the Jewish State that they recognize as counter their conceptions of Jewish social justice.
It is time for us to come together and build an open and safe space for learning, questioning, and discussing the conflicts that arise in our commitments when we attempt to actualize various ideologies and values.
Four partners (AZM, Ameninu, World Zionist Organization and Binah) have joined together to bring these issues to the table. We believe in the importance of voicing opinions and listening to others' opinions through learning ancient and modern text, meeting with academic speakers and organizational leaders, and engaging in respectful provocative conversation.  Through the process, we will find new and meaningful ways to grapple with the problematic realities facing world Jewry and the Jewish State.
The Voices Fellowship is a pilot program being launched in New York and Philadelphia this spring. The program is designed to engage its selected participants in a deep discussion about Judaism, Zionism, social justice and Israel. The questions raised will include issues of religious tolerance, human rights and democracy, as well as relations between Israel and Diaspora, Jewish values and collective responsibility.
If you  would like to see a program like this in your organization or community please contact AZM to explore the question.