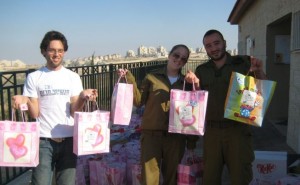 The 2012 Purim Connection was another stunning success with lots of thank yous coming in from across Israel.
AZM with help from AMIT, Mercaz, and many individuals and synagogues across the country brought Purim joy to schools in Kiryat Malachi, soldiers in the front line units across the country, and to many Lone Soldiers (IDF soldiers who serve without the support of their families.)
An important part of our Purim Connection is the role that young Jews studying or volunteering in Israel play in the packaging and delivery of the Purim mishloach manot. This year's volunteers from Magshimey Herut, Habonim-Dror and the kibbutz ulpan program were all on extended stays in Israel as part of MASA Israel Journey programs. Among the volunteers to AZM's Purim Connection were: Raphael Falk, Andrew DuFour, Benjamin Scholom, Brett Godette, Yossi Cohen, Izzy Eisen, and Eugene Kikoin.
One of the Lone Soldiers, Gidi, who received an AZM Purim package posted on the Kehillat Netzach's Facebook Page, expressing his happiness and gratitude. When you see comments like these you know how important it is to participate in these programs: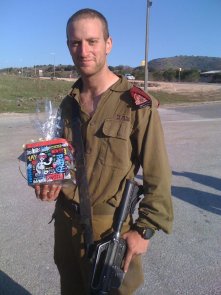 הפורים בכלל לא היה מורגש, ולקבל חבילה מושקעת שכזאת. אוהב אתכם ומוקיר תודה. גידי איגנשטיין
thank you everyone for the great parcel for purim! it feels amazing to return from a hard week of training and still get to feel the happiness of purim with your kindness. gidi eigenstein.
We hope that next year even more congregations and individuals will help to us tell send the message to those in Israel that even though we live here in America, we are always thinking of Israel's soldiers and citizens who are truly on the front lines of the Jewish people.
Thanks to all who helped bring this to reality!