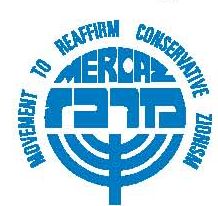 MERCAZ, the Conservative Movement's Zionist arm, and member of the American Zionist Movement, has committed itself to training a core group of Israel Advocates to mobilize their synagogue communities at a special Israel Advocacy training seminar.
The midwestern two-day seminar will take place Sunday and Monday, April 22-23, at a Holiday Inn Express Hotel, outside of Chicago, IL in Palatine/Arlington Heights. The seminar, a project of MERCAZ USA, MERCAZ-Canada, the World Zionist Organization and the Embassy of Israel, is now accepting applications from anyone interested in becoming a "local trainer" in the Israel advocacy field.
All participants will be expected to review certain requisite material in order to guarantee a common baseline of information. In addition, all seminar participants will be involved in organized follow-up activities to ensure continuity. The application process also requires all participants to obtain recommendation from a congregational rabbi or other communal professional.
The cost of the 2-day seminar is $105, which covers 1 night accommodations double occupancy and 4 meals, starting with lunch on Sunday, April 22, through lunch on Monday, April 23. There is a reduced fee of $65.00 for local residents who do not require hotel accommodations. Please note that all food will be kosher, provided by the caterer of the Conservative congregation North Shore Suburban–Beth El in Highland Park, Illinois. Any individual dietary needs (such as vegetarian, mehadrin, gluten-free, etc) will be accommodated, provided the organizers are informed in advance.
To register, please pay below. After payment you will be contacted by the Conference organizer for further information.
For more information, please call MERCAZ: 212-533-2061 or email its director, Rabbi Robert Golub.
Israel Advocacy Conference- April 21-22 | Price: $105.00* (double occupancy)