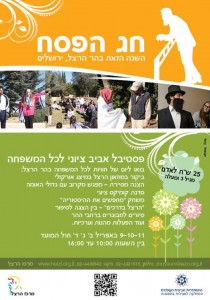 An important part of the Passover tradition is the discussion and debate of the haggadah. It is also a tradition to add new elements into the haggadah.  To provide additional Zionist context to this year's seder, the World Zionist Organization and AZM offer some songs and texts to be read and considered, as well as some questions to help families put the materials into the Zionist context.
The texts are part of David Ben-Gurion's speech at the Peel Commission; the song Out of Egypt (hear it and see it on YouTube) by Alma Zohar, which connects the Jews' departure from Egypt to the Promised Land to today's African refugees in Israel; and a reflection by Ze'ev Jabotinsky on the "Four Sons" from the Haggadah. The themes and questions raised in the materials include the collective memory of the Jews, whether Israel helps or impedes the concept of peoplehood, whether the Jews living in Israel and those living outside of Israel are one people,  if Jews throughout the world share a "common denominator," and more. These questions will help your family and friends reflect on their Zionist identity and their connections to Israel and the Jewish People.
The supplement is available in English, Hebrew, and Spanish. Click below to download yours! Use it at your seder and share it with your friends and neighbors.
Also download the Zionist Dayenu, available here.
See the Alma Zohar video Out of Egypt here: