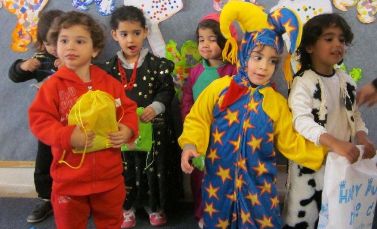 For more than 25 years, the American Zionist Movement has proudly been donating mishloach manot (traditional Purim gift baskets) to Israeli children and soldiers for Purim. Because of the numerous recent attacks faced by those living in the south of Israel, this year AZM focused on Ashkelon and its surrounding areas in order to show solidarity with residents there. More than 1,000 mishloach manot were distributed to a variety of organizations and community centers in need of extra support.
AZM donated the majority of mishloach manot to organizations in and around Ashkelon related to children. Children at Neve Hanna, a children's home located in Kiryat Gat, and in the children's ward of Barzilai Hospital, were delighted to receive their candy and noisemakers. The gifts enhanced the Purim celebration at the Kehillat Netzach Israel Ashkelon Preschool as well as at several NA'AMAT daycare centers. At the Ashkelon Family Nest, which assists young mothers and their children, recipients both enjoyed the surprise and were educated on the importance of volunteering and helping others. Ethiopian immigrant children at the Beit Canada Absorption Center celebrated Purim for the first time, and their mishloach manot made the experience even more exciting.
As in the past, in conjunction with Yashar LaChayal, an organization that provides necessities to soldiers in the Israel Defense Forces, AZM donated mishloach manot to soldiers on Israel's front lines. Lone Soldiers who are based in the Ashkelon area also were recipients of AZM gifts.
The mishloach manot were distributed by Marty and Terri Davis, who, in their capacity as Ashkelon community activists, are passionate about helping their community. In a letter of thanks to AZM, they shared how important the packages were to recipients.
[The mishloach manot] put smiles on the faces of many children and Soldiers. Try to imagine a child in the hospital missing out on the Purim festivities and, from over the ocean, special gifts arrive to help them celebrate! Even those with serious health problems were able to smile.…For us it is an emotional experience, and we would like to thank AZM on behalf of all the children and soldiers in Ashkelon for bringing them such joy and happiness.
 To help AZM continue its mission of supporting and promoting Zionism, donate here.