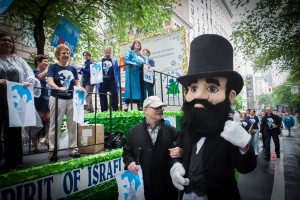 Despite the torrential downpours, spirits were high as celebrants made their way Fifth Avenue on Sunday. June 2nd.  Zionism: The Spirit of Israel was the theme and Herzl's beard was filled with words associated with Zionist values.  Theo Herzl marched alongside the float on Sunday and even managed to snag a few press interviews.
Israel was built on the core values of Zionism and still proudly carries these values today. We were thrilled to celebrate this beautiful country of ours, together with other Zionists from all over the Tri-State area and beyond, including some from our northern neighbor Canada.
Sponsoring the float were AMIT, Bnai Zion and Hadassah.  Many other organizations joined the Zionist line of march following behind, including Ameinu, Habonim-Dror, Hashomer HaShomer, MERCAZ USA, Forest Hills Jewish Center, Hebrew Tabernacle and Young Judaea.
See an album of photos here, a video of the Celebrate Israel Parade here, and of the AZM float at the Parade here.