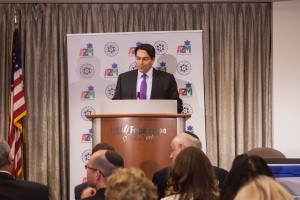 It was standing room only on Thursday evening, June 2 at BDS: The New Antisemitism? Countering a Global Movement. Over 250 people gathered to learn more about the fight against BDS in the United States and globally. The idea was initiated by the World Zionist Organization and specifically its Vice Chairman Yaakov HaGoel. The program began with a rousing greeting from Israel's Permanent Representative at the United Nations, Ambassador Danny Danon (pictured left) .
In the presence of twelve Israel mayors and deputy mayors, Malcolm Hoenlein, Brooke Goldstein and Yuval Abrams spoke about efforts to delegitimize Israel and what is being done to counter those efforts.
Brooke Goldstein spoke brilliantly about using the US Constitution and the legal system to thwart efforts to silence students and others. She also spoke about the successful efforts to halt Kuwait Air's illegal restrictions on passengers.  Yuval Abrams spoke about the impact in the academic arena and challenges he faces as a member of the CUNY Graduate Center Student Council.
While BDS  has minimal economic impact on Israel, on campuses  there can be a serious impact on the hearts and minds of young Jews. BDS is a movement designed to undermine and destroy Israel's existence as a Jewish state. Everyone, regardless of their perspective, agreed that we cannot simply respond, but we must be proactive. Young people on campus today are the leaders of tomorrow, and it is important that they engage with Israel in a positive way, and do not learn and grow in a hostile environment.
As proud Zionists that care deeply about Israel and its right to exist as a Jewish and democratic state. It is paramount that we unite together against the common threat that is BDS. We strive to empower students to feel confident in their abilities to stand up for Israel and against the baseless hatred driving the BDS movement, particularly on college campuses.
We are proud to have co-sponsored such an engaging evening of dialogue that truly provided meaningful answers and tools to countless members of the community, to combat Israel hatred.
You can find the video of the event here.
https://www.youtube.com/watch?v=fBNNJJ-PFvA