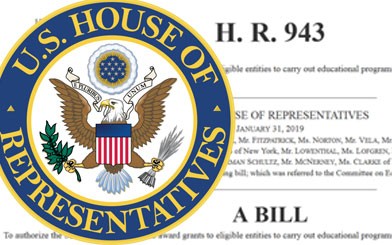 The American Zionist Movement commends the United States Senate for unanimously passing the Never Again Education Act, following its recent overwhelming adoption by the House of Representatives.
AZM President Richard D. Heideman, stated: "The Never Again Education Act, adopted with broad bipartisan support, demonstrates the consensus of the American government on the importance of teaching the lessons of the Holocaust to all Americans. This important message, and the funding provided, will help ensure that the lessons and history of the Shoah are not forgotten and that schools and teachers have the resources to teach our youth about the darkest chapter of history during the genocidal attempt at the annihilation of the Jewish people and others during the Holocaust. We look forward to the President signing this bill so that "Never Again" will be the law of land."
We commend Hadassah-The Women's Zionist Organization of America, a member organization of The American Zionist Movement for its leading advocacy effort for passage of the Never Again Education Act and are grateful for the diverse coalition of groups which supported this bill, which AZM endorsed when it was first introduced by Rep. Carolyn Maloney.