---
NEWLY ELECTED PRESIDENT RICHARD D. HEIDEMAN
---
DINNER HONORING KAREN RUBINSTEIN ON 40 YEARS OF SERVICE
---
TRIBUTE JOURNAL TO KAREN RUBINSTEIN
---
KAREN RUBINSTEIN SLIDESHOW
---
KEYNOTE SPEAKER: PROF. DAVID PASSIG
---
INTRODUCTION TO PANEL I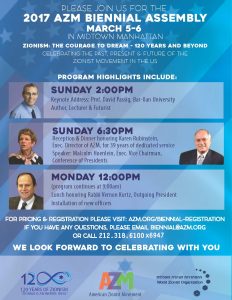 AZM's 12th Biennial Assembly,March 5- 6, 2017, is just around the corner. A new president and a new administration will be installed. AZM will say its thanks to Rabbi Vernon Kurtz and the other officers who served over the past 4 and half years. In addition, AZM will say "farewell" to Karen Rubinstein after almost 40 years of service.
Leading Israeli future, Dr. David Passig of Bar Ilan University, will present a challenging and provocative address to set the stage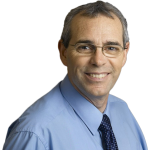 for the Biennial; and for the future of the Zionist Movement in the United States. Dr. Passig got his PhD in Anticipatory Anthropology at the University of Michigan. He is the author of 2048 (English) published in May 2010 and Forcognito (Hebrew only at this time.) In addition to Dr. Passig there will be ample opportunity to sample program offerings from Departments of the WZO, and to debate and discuss the AZM Strategic Plan and directions for the future.
The dinner will feature Malcolm Hoenlein, Executive Vice Chairman of the Conference of Presidents of Major American Jewish Organizations., as well as others who have worked with Karen over the years.
Member organizations are asked to send representatives, but this event is open to the public and anyone who wishes come for the entire biennial, or for the Sunday night dinner alone is most welcome. Please visit this page to make your biennial reservations.
To register for the dinner and place an ad in the journal, visit this page.
As more details are available we will post them. We urge you to register now and participate in what promises to be an exciting, informative and fun event.
To download and print out: AZM Journal and Dinner Pledge Form