Today is Holocaust Remembrance Day (Yom HaShoah).  Below please find some of the many ways you can commemorate the horrific tragedies as we join together to say #NeverAgain
RESOURCES & ACTIVITIES:
WZO Education Department including Zionist sources, songs, ceremonies & more
WZO Department of Diaspora Activities sources as well as a new initiative for remembering Yom HaShoah in collaboration with WZO Department of Diaspora Activites & Shem VaNer: www.our6million.org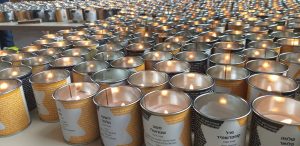 "Every Name Has a Candle" project is a memorial candle with a label bearing the personal details of a person whose life was taken. Lighting the candle at home in a family setting, while discussing the figure that appears on the candle will enable a personal connection to the person. Each label contains the details of a man, woman or child who perished in the Holocaust and a code that refers to the site where we commemorate the deceased.
Finally in true Jewish spirit, please click here to find recipes to keep alive the traditions of communities from before the Shoah.