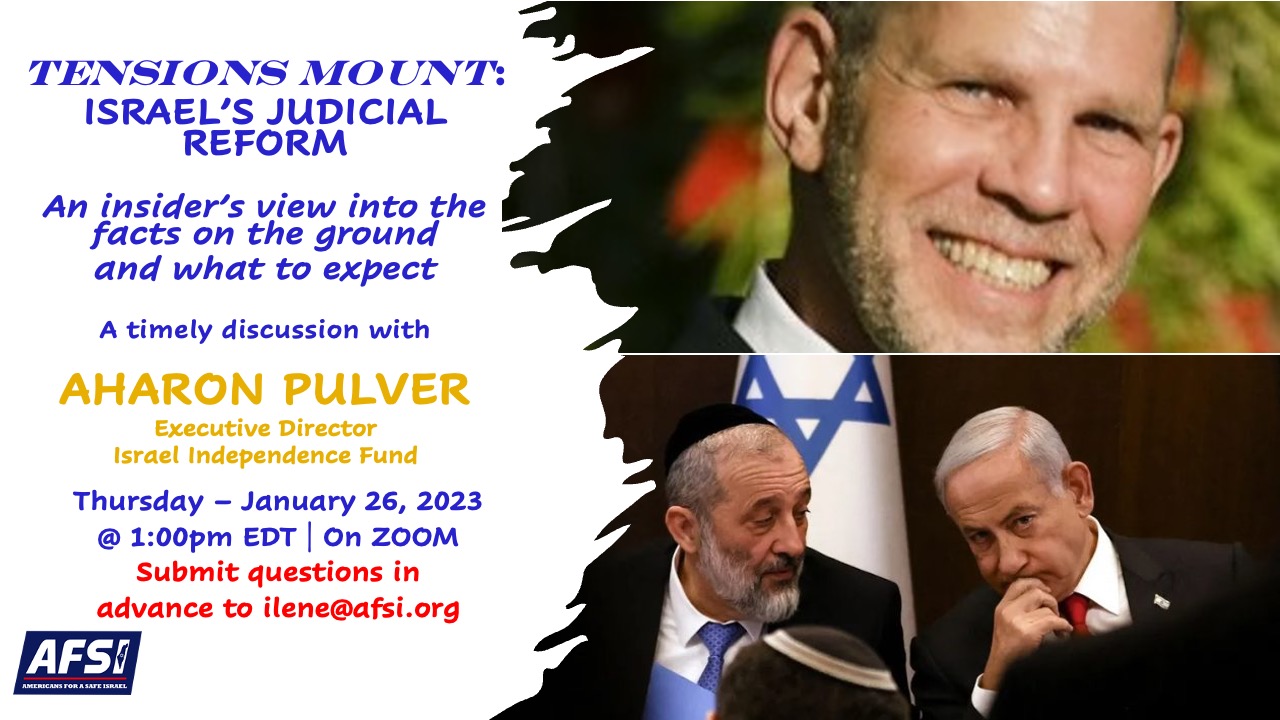 TENSIONS MOUNT: Israel's Judicial Reform
Register here: https://us02web.zoom.us/meeting/register/tZUlcu2upzMjH9c8rHr-_hzEzqktEOXRlw5y
Israel's new government under Prime Minister Benjamin Netanyahu is in the midst of working to overhaul and implement urgently needed judicial reform. It is a hot issue. The recent Supreme Court ruling to disallow Aryeh Deri's position as minister and leaves Netanyahu in a very difficult position. The decision itself gives significant proof that reform is needed. The need for judicial reform is apparent and who better than Aharon Pulver to give us the inside story on the new government's plans to correct judicial overreach and discuss the mounting tensions among the divided Israeli public.
Aharon Pulver's work is to advocate on behalf of the protection of the Jewish, Zionist, and democratic character of the State of Israel. His involvement in these crucial issues and contact with those who are on the frontlines fighting for these ideals gives him the experience and insight to evaluate the political situation confronting Israel, especially now as the country heads to another election this Fall.
Founded in 2007 and led by Aharon, the Israel Independence Fund plays a unique role in helping Israel to realize its continuing vision as a strong, secure, and uniquely Jewish State devoted to the welfare and future of our People, and to the values of Zionism and democracy.
Aharon is the Executive Director of the Israel Independence Fund (IIF). He has lived in Israel for 41 years, a time span that has provided him with the proximity, contacts, connections and understanding necessary to spearhead the IIF's mission. The mission is to work with NGOs that are tackling some of Israel's most pressing issues and assist individuals who are tackling some of the most important causes in Israel today.