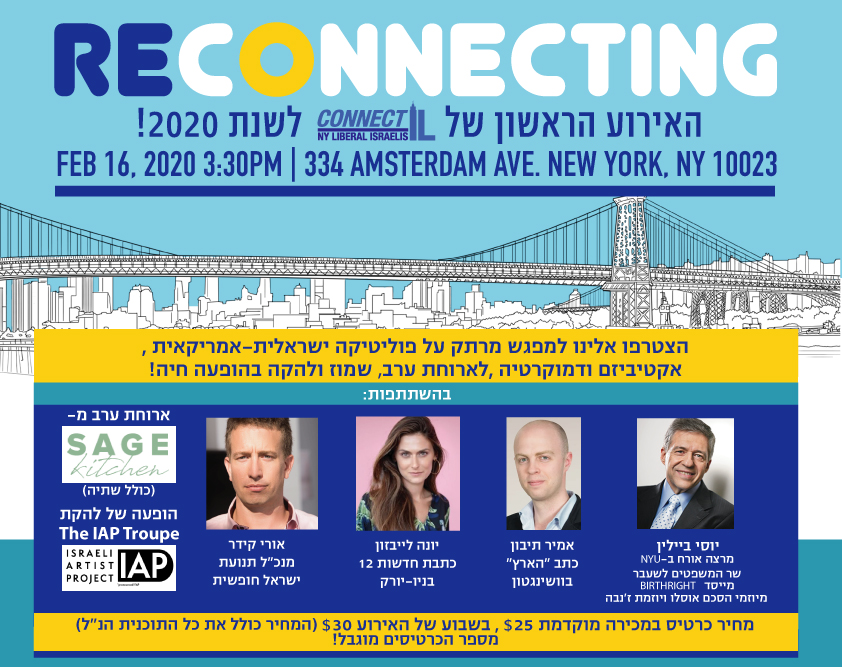 Time
3:30 pm - 7:15 pm
Cost
$25.00
Reconnecting 2020 – Connect IL Event
We are excited to invite you to "RECONNECTING 2020″, the first Connect IL event in 2020!
This event will give us the opportunity to catch up on what's happening politically in Israel and here in the U.S., talk about activism and where we can make a difference, all while enjoying good music, dinner and drinks and a lot of schmoozing!
We are honored to host Israel's former Minister of justice and an NYU visiting professor Yosi Beilin, Haaretz correspondent in Washington, Amir Tibon, Channel 12 News correspondent to New York Yuna Leibzon, and "Be Free Israel" Executive Director Uri Keidar. The four will discuss the political plunder and the upcoming elections in Israel, the state of Israeli-US relations in the Netanyahu-Trump era and the future of democracy in both countries – each from their unique perspective.
We will hold a group discussion on how we as Israelis living in the United States can stay connected and influence what is happening in Israel and hear from some Connect IL members about their way of staying "activists" from New York. Stick around for dinner and a performance by THE IAP TROUPE – a local Israeli-American band.
This event will take place in Hebrew.