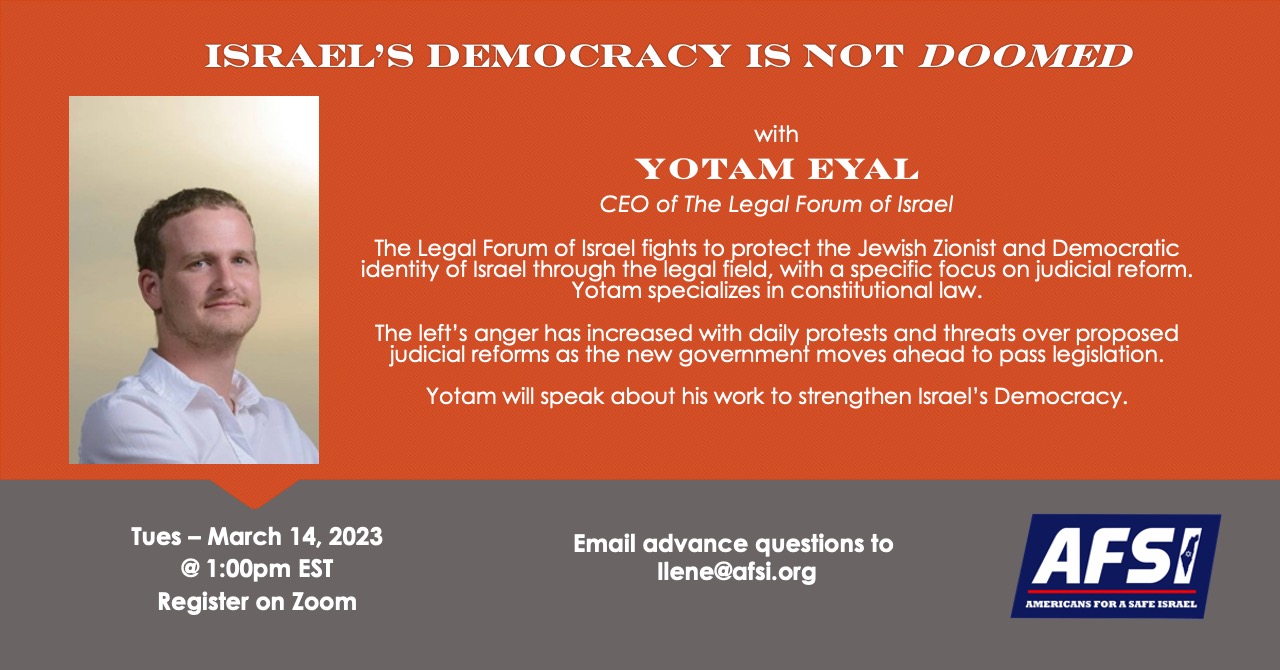 Israel's Democracy is Not Doomed
Email advance questions to ilene@afsi.org
AFSI is pleased to present Attorney Yotam Eyal, CEO of The Legal Forum of Israel. Through legal measures and public opinion, The Legal Forum of Israel works to safeguard the interests of the Jewish people in the State of Israel. One area of their expertise is Israel's judicial system. They are a non-governmental organization that engages four hundred volunteer lawyers to fight to protect the Jewish Zionist and Democratic identity of Israel.
The left in Israel says the country is facing the end of Democracy and that the judicial reforms underway now are dangerous for the people of Israel. In their opinion, Israeli Democracy is doomed. Nevertheless, the new government is moving full speed ahead with badly needed and long-overdue reforms that will serve to strengthen and restore Israel's Democracy. Yotam will give us the LEGAL rationale that supports these reforms.
Yotam Eyal specializes in Constitutional Law. Over the last eight years, he has been involved in many legislative proceedings, appeared dozens of times before Knesset committees, and wrote many legal opinions which were submitted to the Israeli Knesset and the government. He has published dozens of articles on current legal issues in Israel, appears frequently on radio and television on matters related to the legal system and has a regular segment on The Knesset Channel, the official broadcast of Israel's Knesset.
REGISTER ON ZOOM https://us02web.zoom.us/meeting/register/tZAlc-qhqDoqHdV2yEyiwzR4a-toIIeXCrJd