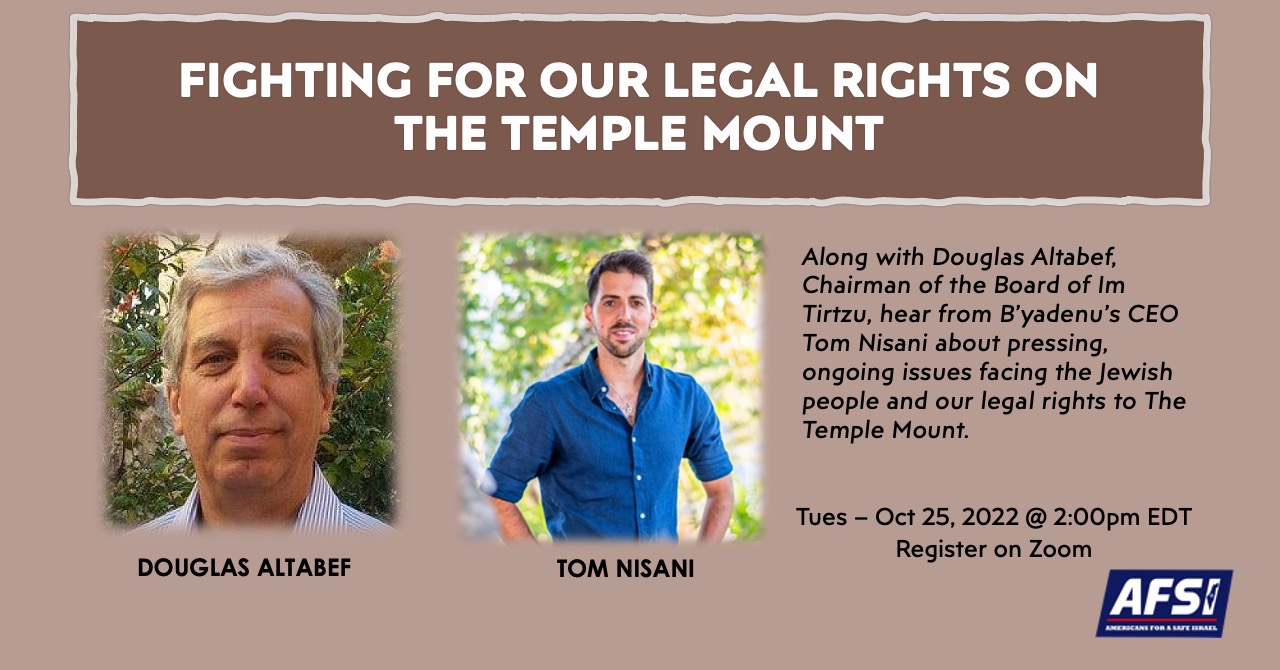 Fighting for Jewish Justice on The Temple Mount
It has been suggested that Jews not be allowed to pray on the Temple Mount. This is totally unacceptable! Doug Altabef and Tom Nisani will discuss pressing and ongoing issues facing the Jewish people and our legal rights to the Temple Mount.
Doug Altabef, a native New Yorker, made aliyah in 2009 with his wife Linda and youngest child Eliza in 2009 to Rosh Pina in the Upper Galil.
He continued to work in Manhattan for the next five years and was a something of a pioneer in remote working.
Doug has been active in a number of Zionist NGOs, serving as a Director of B'yadenu, the movement for Jewish rights on the Temple Mount as well as the Israel Independence Fund, and serves as the Board Chairman of Im Tirtzu, Israel's largest grassroots Zionist organization.
He is a regular contributor to The Jerusalem Post, JNS and the Israel National News Network (Arutz Sheva).
Tom Nisani is the CEO of B'yadenu, which advocates for Jewish rights on the Temple Mount.
Tom is a former IDF officer who served for almost a decade in an elite IDF intelligence unit and holds a degree in Middle Eastern Studies and Political Science from Hebrew University.
He has also served in a number of senior positions in Im Tirtzu.
Tom is married with two children and lives in the Shomron.