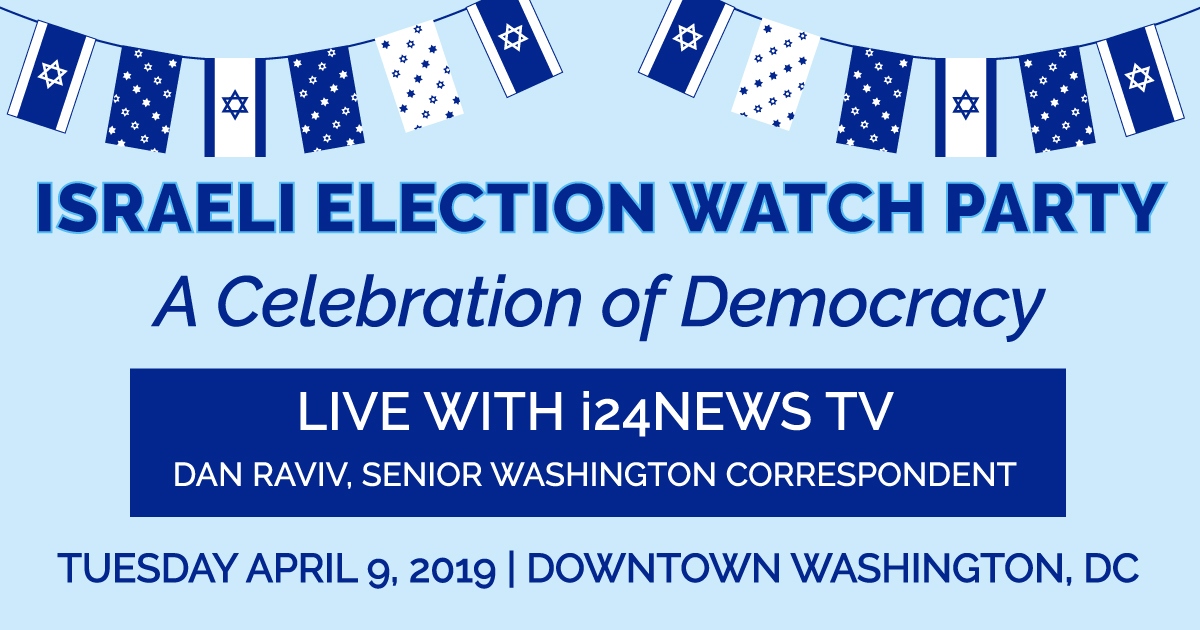 Israeli Election Watch Party: A Celebration of Democracy
Join us LIVE in Washington, DC with i24News TV's Dan Raviv, Senior Washington Correspondent, as we follow the election results and celebrate democracy in action in Israel.
TUESDAY APRIL 9, 2019 | DOWNTOWN WASHINGTON, DC
Exact location to be provided upon registration
12-4 PM 
5-7 PM $15 Happy Hour | Includes Beverages & Snacks
*Kosher Dietary Laws Observed

Everyone can watch on i24 News – Instructions & Code 
If you have an i24 News subscription Click Here and then click "Watch Live".
Please note you do not have to pay to view the live stream with the code below:
Desktop, Laptop or Mobile Phone:
1.       Go to https://video.i24news.tv
2.       Click on "Login"
3.       Enter your email, choose your password and click on "Create an account".
4.       Click "Redeem coupon"
5.       In the field "your coupon code" enter code: i24Worker2018
6.       Click "Activate"
7.       Click "Get access"
Watch on the i24 News APP OR Over The Top (OTT) devices such as Roku, Apple TV, Chromecast:
1.       Download the App OR Go to https://video.i24news.tv
2.     Click on the Menu icon (the three black horizontal bars aka hamburger icon – pictures here)
3.     Follow steps 3-7 above
We look forward to having you take part in this exciting event.
Sponsored by i24News TV, American Zionist Movement, The Israel Forever Foundation
Cosponsored by American Forum for Israel, AFSI, ARZA, BBI, Bnai Zion Foundation, BZD, EMET, Emunah, Hadassah, Hashomer Hatzair USA, Herut NA, JCRC of Greater Washington, The Jewish Federation of Greater Washington, JFNA, JNF, MERCAZ USA, NFTY, Ohavei Zion, RZA Mizrachi, UIA, WIZO USA, Young Judaea, ZOA