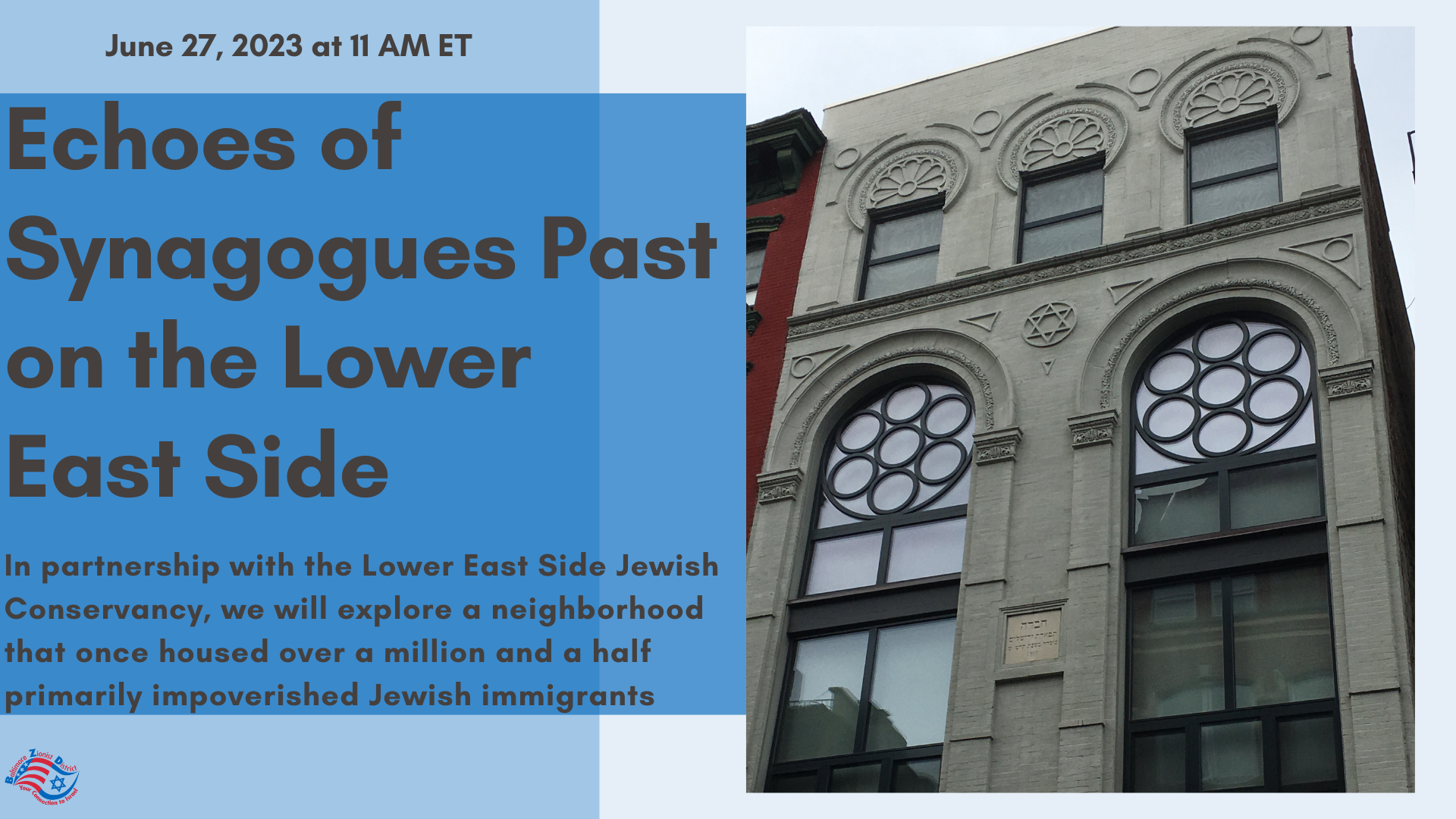 Echoes of Synagogues Past on the Lower East Side
Join the BZD and our guide Bradley Shaw in partnership with the Lower East Side Jewish Conservancy as we explore "Echoes of Synagogues Past on the Lower East Side." Approximately one hundred years ago, in the heart of the Lower East Side, it seemed like every street had at least one synagogue to satisfy the burgeoning Orthodox Jewish community. Some religious sites were small shtieblach (one-room houses of prayer), usually located in tenement apartments – with many buildings housing multiple Shuls. Quite a few, however, were found in buildings of varying sizes, including converted townhomes and churches. Some were initially constructed and designed by famous architects on a grand scale to fit a large, expanding congregation.
Though most of these former religious structures have been lost to time in a constantly changing neighborhood, some still exist today. The great majority are no longer synagogues, but their architecture and stories still 'echo' through a neighborhood that once housed over a million and a half primarily impoverished Jewish immigrants.
Join us on this sort of "then and now" with urban historian and educator Bradley Shaw as we virtually visit a handful of these places of worship. Learn about their congregations and how they lived in what was once the most densely populated place on earth. Also included are little-known and interesting facts about the neighborhood and reminiscent of a native son who has been returning for over 60 years.
Bradley, our guide on this journey, was born on the Lower East Side, has a BA in History and Education from Brooklyn College, and is a licensed NYC tour guide.
Next Event
Date

Sep 26 2023

Time

11:00 am - 12:00 pm