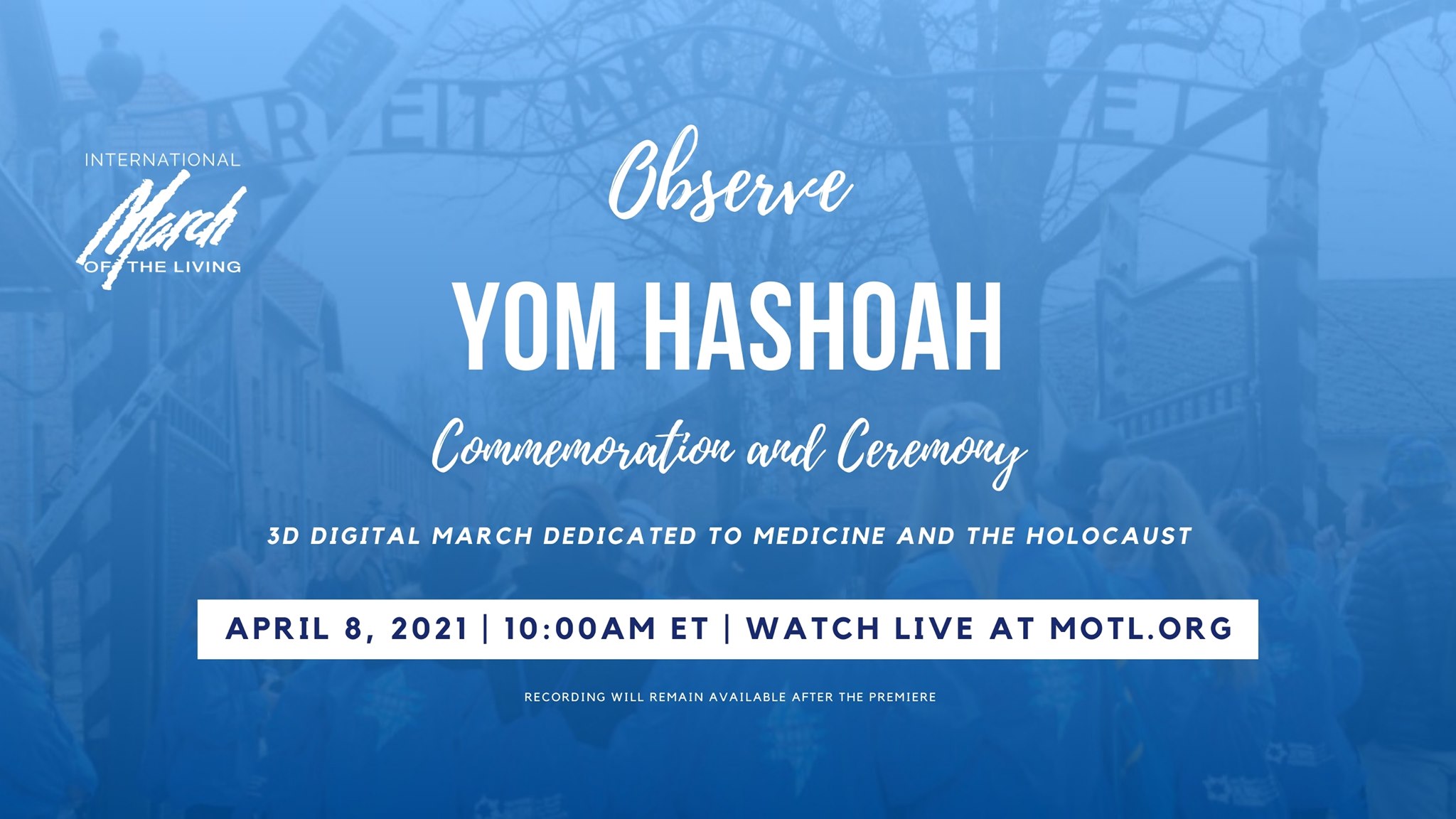 2021 March of the Living Virtual Commemoration and Ceremony
International March of the Living will hold a Virtual March on Holocaust Remembrance Day led by Israel's President Reuven Rivlin, Holocaust survivors, Jerusalem Mayor Moshe Lion, The Jewish Agency for Israel's Chairman of the Executive, Isaac Herzog, KKL Chair Avraham Duvdevani and Rabbi Israel Meir Lau.
Among the Holocaust survivors participating are those who survived due to the selfless acts of medical professionals. Participants in the Virtual March from across the globe were filmed using innovative 3D technology so they appear to be marching along the traditional March of the Living route at Auschwitz – Birkenau.
As a tribute to the medical professionals who risked their lives during the Holocaust, numerous medical associations around the globe, including the World Medical Association, as well as those on the forefront of the fight against COVID-19 will participate in this virtual program. Among those marching will be doctors, nurses and paramedics. Israel's Coronavirus Commissioner Prof. Nachman Ash, second generation to doctors during the Holocaust who is today leading physicians on Israel's medical front against Covid-19, Prof. Idit Matot, Director of Anesthesia in Tel Aviv's Ichilov Hospital and Galia Rahav Head of the Infectious Disease Unit and Laboratories at Sheba Medical Center, MDA Director General Eli Beer, and Haim Freund, CEO of Ezer Mitzion who is marching with his mother, Holocaust survivor Tzipora Freund.
The Virtual March will premiere Thursday April 8th on Israel media at 3:00PM IRL, followed by the global broadcast at 10:00 AM ET / 4:00 PM CET / 5:00pm IRL and will be followed immediately by an online memorial ceremony with the first torch of remembrance lit by President Rivlin.
Register and find local times at https://www.motl.org/2021-march
Next Event
Date

Mar 16 2021

- Jun 01 2021

Time

8:00 am - 6:00 pm