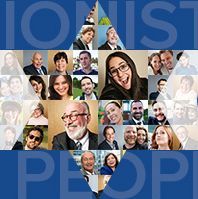 MY SELF. ONE PEOPLE. OUR ISRAEL
The elections to the World Zionist Congress offer a unique opportunity for the global Jewish community to have its voice heard on issues of concern.  Here is in the United States the elections will field 11 slates, including two newly qualified slates.
Slates will be competing for the 145 delegates of the 500 elected delegates to the Zionist Congress. The slates reflect the tremendous diversity of the Zionist Movement, both ideologically and Jewish practice with organizations spanning the political spectrum from right to left, and including the Jewish religious streams.
Organizers are putting out a general call to all American Jews who care about Israel and World Jewry to register and vote. They also invite participants to post their own photo and send the message that this is a personal act, important to the totality of the Jewish People, and seeking to promote their vision for Israel's Future.
Visit now  and post your picture and tell the world why you voted.